Never got the connection: LAN to come up.
Do the new Kasa devices have the latest firmware installed? You can check in the Kasa app.
Kasa Local Hubitat Integration, Version 6.5.4
applicationVersion: 5.3.3
deviceIP: 172.20.1.97
devicePort: null
driverVersion: 6.5.4
From the Kasa phone app the device info:
Hardware 3.0
Firmware 1.0.4
The New devices I haven't tried yet since everything went crazy. About 8 of the 21 devices work but they all did before the update and are all over a year old.
I can't remember, does the kasa driver require an IP input? If so, it's quite possible your ip's changed on those devices if they weren't reserved and the integration is having a hard time finding them... Just an idea I'm throwing out.
Update the driver and APPLICATION (you did not update driver).
Try Save Preferences on each device.
Note: You must always update the Application as well as relevant drivers.
Dave
No. The application finds and maintains the IP addresses for all the LAN drivers.
Network admin by trade but still a newbie with HE and KASA. X10 for many years.
I'm trying to understand the process. From pieces I've read, My phone app pairs with the device I give it access to my LAN (DMZ) my firewall has DHCP running so it gets its IP. I can control all my devices from my work office about a mile away with the KASA app so that side is good.
Please correct me if I'm wrong.
The KASA app scans my LAN and gives me a list of found devices I can choose to add. To a database? Where, on the HE device (C7) or is this in the cloud? Since some are working, and show connection: LAN and the ones that don't work do not even show the word connection, that leads me to think the database is corrupt. Can/should I delete the database and then re-add the devices?
I will update the drivers as soon as I find a link for the process (memory's not what it used to be, lol) Seams strange that some work and some don't since they are all the same model and all installed over a year ago.
The instructions say a. Open the Driver Code. Looking at HPM and Kasa integration I don't see a button for driver or app code.
HPM says:
Hubitat Package Manager v1.8.5 (app)

Kasa Integration v6.5.4 (app)

All Plug-Switches (except Dimmer) v6.5.4 (driver)
From the main menu of hubitat, on the left hand side you will see drivers code and apps code
Did you hit the Advanced double arrow?
Click the little arrows next to the word Advanced in the menu on the left.
OMG. I remember pasting code when I set it up but lost where it was.
Thank you!!
I thought below the line was advanced and didn't realize the arrows opened it to more options. Deleted un-needed code, rebooted HE did a save on each device and ALL is well again! Thank you and my lawn thanks you too. I love those Kasa plug switches. I use them with a 110-volt DPDT DIN mount relay to control my sprinkler zones.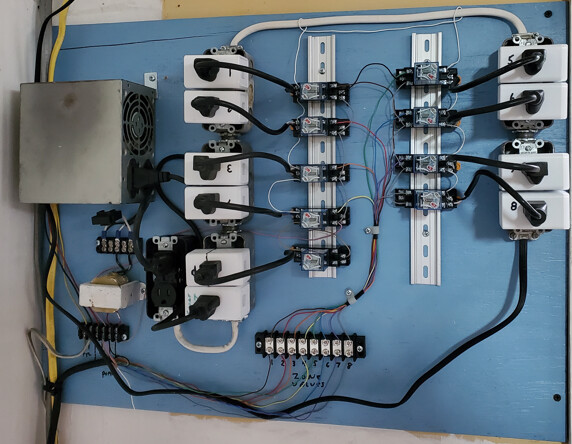 Thanks again!
Holy hell that's some complicated DIY!!! LOL... (Don't get me wrong, looks great) I got a Rachio 3 instead because this is exactly what I wanted to avoid while achieving the same thing.
It's not really that bad just repeats a lot. By plugging a relay into a Kasa plug switch I get to have dry contacts that I can use to control anything remotely. I like having everything on my phone in one app with no monthly fee.
The silver box is a leftover computer power supply from scraped PCs, a great source of 5 and 12 volts. I do tend to get carried away, just ask my wife, lol!
Why I like the Rachio. No monthly fee and native integration into Hubitat. Getting a Tempest from Weatherflow soon. It directly integrates with Rachio and has a good Community driver for hubitat.
Interesting, I'll have to look at that for my son's sprinklers.
Thanks