After noticing that certain Hue bulbs were occasionally failing to turn ON as instructed by RM, I created a rule that simply watches each bulb's "Reachable" attribute. To my amazement, some bulbs (example shown in this screenshot) oscillate between 'true' and 'false' at random times, multiple times per hour: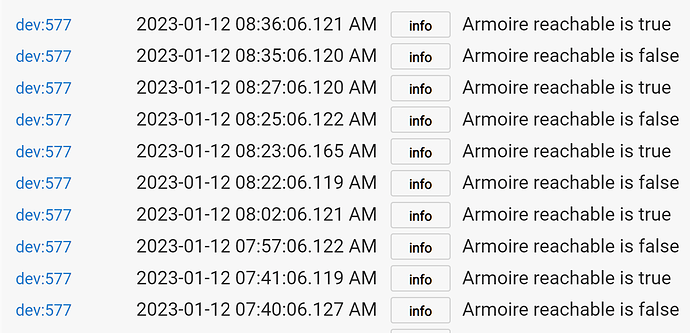 Each 'outage' appears to last for around a minute, typically, which roughly corresponds to how often the CoCo Hue integration pings each bulb.
I'm currently using the CoCoHue - Hue Bridge Integration to drive my Hub bulbs, all of which are more or less in line-of-sight with the Hue Hub itself, none more than 30 feet away. Has anyone ever dealt with this issue?
I've certainly searched the Forum for other examples of this behavior, and see a few, but read nothing conclusive about chasing down the cause:
Hue bulbs unreachable ◄— does not directly apply
Hue - No route to host (Host unreachable)
Hue bridge logging / troubleshooting
Hue control intermittent issue
etc.
Given the availability of more modern, less expensive Zigbee bulbs on today's market, would it be worth my while just yanking all the Hue bulbs and replacing?