More Kmart Mirabella wifi products to choose from.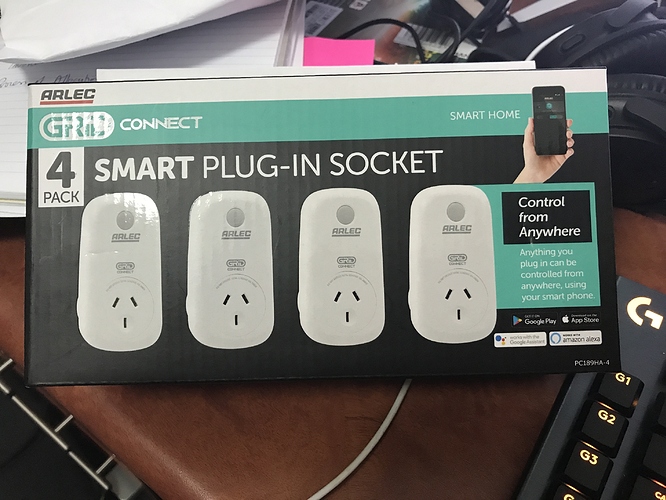 These are on clearance at Bunnings. $60 for the 4 of them.
Decided to get them on the assumption they would use the same chipset, and also, if I manage to wreck one, that's $15 down, not $40 on the 4 port powerboard. At least it is good practice.
Can't see these 4 packs on the bunnings website, so maybe get in while you can. I'll let you know how it goes. My FTDI dongle arrived this afternoon.
Now THAT I like the look of.
HS110 for AUD31 after 20% discount. They work brilliantly with a driver here. No flashing required, for those who dont want to deal with soldering.....
110 includes engery monitor and reporting.
100 has no energy reporting.
Yep. Looks pretty sexy. Might grab one for the hell of it.
Do the tplinks allow local comms or is it cloud API?
Local, but you need to download the Kasa app to set it up. It's fully local, even then, but Kasa required for setup only.
I've got both the hs100 and hs110 both work well with hubitat communicating direct over lan. The hs110 energy monitoring you can create rules for washing machine completion etc. Bought two more with the Bing Lee deal.
Thanks for that Steveff, had a read, and more importantly, things are starting to click into place now with a routing table to be proud of. Seemed I just wasn't patient enough
@lionel Do your TP-Link plugs emit a high pitched ringing sound? I just picked a couple up and both have a very annoying ring to them when either on or off.
I may just be sensitive to sound, as I hear the same noise from my wireless phone charger when it's charging. But it's loud enough to be unusable in the bedroom.
I recently relocated my Tplink and also noticed the noise. It's at least a year old now. Still works amazingly!!
I haven't noticed any noise and I do have one for my bedside lamp. The only noise I hear is the single solid click sound when it turns off or on.
Yeah I wouldn't be concerned with the noise mine does it too, You do have to listen hard for it and very close but i haven't had any issues either.
I noticed JB-Hifi have the 3-gang Tp-link Kasa smart power board now...not seen that here in Aus before. It's not listed on their website, but it was in store in VIC. They also had some Lenovo smart hardware, including a smart plug that looked tiny, way smaller that the TP-link stuff.
They also had a Smartthings V3 hub, I didn't realise that was available here now. I know the Wifi hub's been here for a while, but this was just a standalone hub. $119...interesting... maybe I'll swap out my US v2 hub
So I'd like to issue a very Public thankyou to @ajrlaird. The phase one pilot for the Museum was presented to the AGM on Saturday and extremely well received. With Andrew's help we have deployed a HE, smart things motion sensors, google mini's and some kill switches.
The only gripes back are about the volume on the mini's, the quality of the audio tracks used, and the usual "why doesn't it do this as well"...…...
I Could not have gotten this far without him.
The Project has been "green lighted" to continue and once I sort the wifi-AP's and a couple of OH&S related power issues (big sook about where a power cable was) the expansion will continue.
so once again a huge thanks to @ajrlaird for getting it over the line for us.
Yes, that's the one. I think it was around $70. I saw it yesterday in the JBs in Altona North VIC.
Oooof. 70 bucks! Ah well, it has a usb port for a tradfri repeater as well, so that's good.