Yep. So my question still stands. I don't get it. Seems dumb.
Seems dumb because it is.
I counted up the lights in the latest electrical plan and I dropped down to 92 lights all up. I was over 100 in the first iteration of the plan.
No, the faceplates are all the same Clipsal Iconic although I have a box of Saturn switches I took out of the old house. With Clipsal, it's just the mechs behind the faceplate that change. Good gear but way overpriced.
I think the options for a double GPO are either:
Due to the number of switches in my house,, I'm probably looking at either the Shelly 2.5 or the Glass double switch. While you could have different switches controlled by different technologies in theory, in practice I think it's better to pick and stick as far as possible.
I have installed 7 TUYA GO Zigbee Extender across my 2-storey house after reading this discussion. And the results of the Zigbee mesh has improved a lot.
Not sure if this is the right place to ask - found some zigbee repeaters in storage (same as these telstra ones) Telstra Zigbee outlets ** Gone** - #7 by mattsebaymail and have an honest question because I don't really know. you have the on/off from the wall power and an on/off on the repeater. I'm assuming that the repeater has to be 'on' in order for it to repeat the signal... or is just having it turned on at the wall suffice and you can keep the repeater 'off'?
Usually having the outlet turned off will simply stop providing power to what you have plugged in to it, but other repeating features and communication with the outlet should all remain available, all requiring the power to be turned on at the wall. And if you plan to use it as a repeater, make sure you keep it turned on at the wall.
Thanks mate - i thought it was straight forward but i second guessed myself haha
Hey all,
Had a read through to refresh myself form late 2020 (building right…) and my plan of hubitat with zigbee Nue smart switches seems to be in tatters, in fact zigbee as the chosen protocol may just not be effective. (I largely wanted smart switches, although i am getting an itch for colour)
So what is the solution for a new build, is it commit to Shelley wifi and beef up my wifi maybe pay for a better nbn package?
Is it z wave? Although it doesn't seem that cheap?
I also have a raked ceiling in living area so very conscious of wanting reliable lights there especially as changing will be fun…
Led down lights throughout.
All and any help is much appreciated.
Thought this might help somebody with NUE switches that have a smashed faceplate. I had a 3 gang fall off a few months ago and smash and after no luck contacting the original seller i came across these at Beacon for their wifi smart swicthes. 3 Gang Switch Faceplate Cover in Frosted Glass | Beacon Lighting
I managed to find one in store this week and for $9 thought i'd give it a go. It's slightly smaller top to bottom than the original and the leds don't quite line up with the etching but close enough for me to use in a spot that isn't to visible. All i did was use a razor blade to separate it from the plastic housing it came attached to then reglue it to the original NUE front housing. I did manage to scratch it a bit but a bit of white paint or something should fix it and i can confirm i now have a working switch again.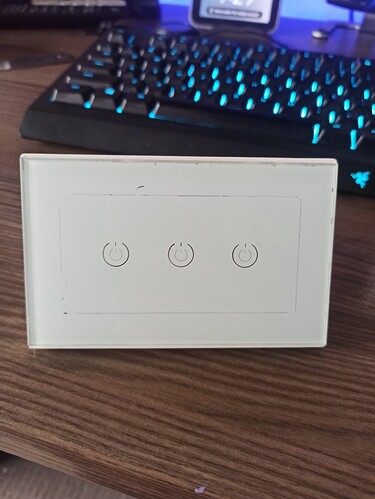 I've got one that I don't have on the wall any more, only had it in place for a brief time. Do you reckon it would be worth trying to remove the Nue plate and regluing it back on with some stronger stuff?
Chaps I have 3 brand new in box Nue fan controllers that might be of use? My wife didn't like the lights on them so they never got used (aside from a 4th unit that I used for testing).
I don't know if the panels would be helpful to fix the lighting version?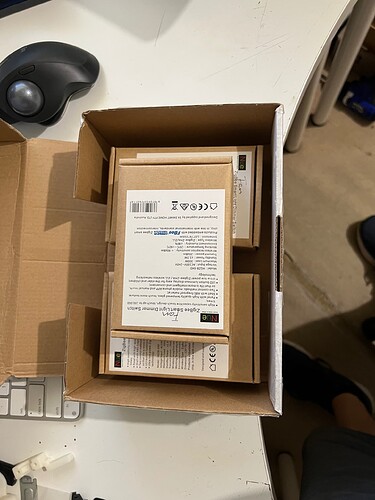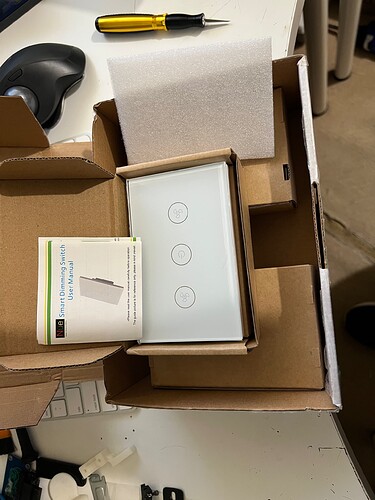 I've glued all mine back on with some loctite just because they were all coming off so i would if you plan on using it.
They would work but just look a bit different lol.
Has anyone found a good switch cover that makes sense for standard AU clipsal style switches in Australia? Something that covers a switch that you don't want turned off, for smart bulb usage?
Plenty of things online for the american style ones, but I haven't found anything that works for us that is an improvement over tape.
Why don't you just use proper in wall control modules instead of expensive "smart bulbs"?
Because sometimes bud, you want some extra bling bling, and smart bulbs are much easier to shift colour and temperature.
I only use smart bulbs for accent lighting, like pendants and niches, for everything else I'm looking at wall control modules as you say. For the smart bulbs though... need to prevent the damn switch from turning off. lol
Fair enough.
Tbh the easiest option is to pop the switch mechanism out of the wall plate, push it into the cavity and then install a blank wall plate over the top.
Yeah, that would be the easiest, yet pretty sure illegal in Aus. I know people do their own stuff anyway, but I'm surprised someone hasn't 3d printed a nice option for us yet.