Hello, first of all, this is my first post on the forum and also English is not my native language, please understand.
That said, the problem I have is that when gas is detected, HSM does not send any notification. However, when smoke or carbon monoxide is detected, the notification arrives.
Looking at the doc. of capabilities and seeing the events subscribed by HSM there is something that, in my opinion, is not correct. Gas Detector capability defines the narutalGas attribute but HSM subscribes to gas.detected (as can be seen in the screenshots below).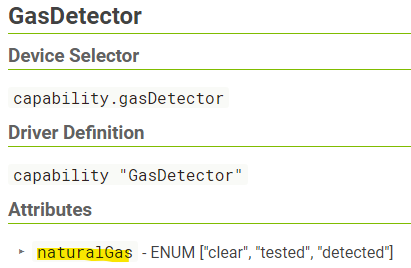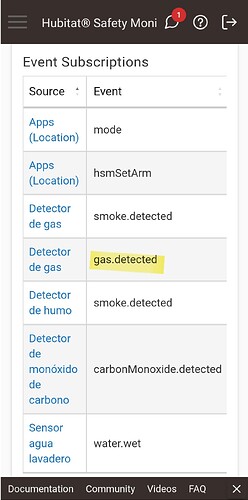 I understand that HSM should subscribe to naturalGas.detected or the capability define the gas attribute.
Am I thinking this right or am I missing something?
I could define a gas attribute in the driver as work around and synchronize it with naturalGas but I understand that the general solution goes the way of adjusting HSM.
I take this opportunity to comment that the hubitat product is incredibly good as well as its community and I would like to leave a "Thank you very much!". I have been able to automate most of my situations with hubitat out of the box platfotm, and for those that are not, I have always found an answer in community.
Edit: @bravenel, maybe you can help me?
Thank you.