I have had a couple of occasions where I want to use a tile as an indicator but not to take action - a virtual lock, for instance, that reflects whether all house doors are locked, but I don't actually want to use it to lock or unlock the house. Or perhaps a virtual switch that shows whether something is on or off but can't be changed by the user. I know I can accomplish some of this with an attribute tile but it isn't nearly as visually appealing. Here's an example: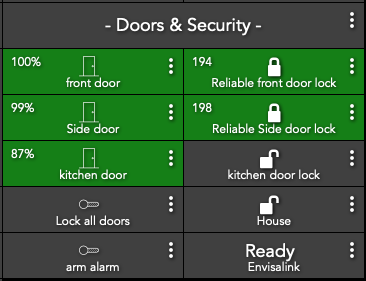 The kitchen door lock is a virtual lock whose state corresponds to the state of the actual lock, but the lock is not electronic (and cannot be retrofitted without replacing the door) and cannot be controlled by HE.
The house virtual lock is simply an amalgamation of the various physical locks. If all of the doors are locked, the house shows as locked. Or in this case since the kitchen door is not locked the house is unlocked as well.
I have some RM magic running so that if one were to attempt to lock the kitchen door from the dashboard it lets you know it cannot be locked manually and it resets to its former position, but it would be convenient just to have a "read only" checkbox on the tile properties and call it a day. (For those who are curious locking the "house" virtual lock will lock the front and side door, but I do not allow all the locks to be unlocked programmatically, so attempting to unlock it generates an error.)