I'm trying to set up an EchoSpeaks action to say something like "Spa temperature is now 90 degrees", when the temperature exceeds that threshold.
I'm using a community supplied driver, Pool Controller with a child device "Pool Controller body". I have two devices of type "Pool Controller Body" -- "Pool Temperature" or "Spa Temperature" depending on which body currently has pump active,
I see the correct value of the state variable "temperature" on the Pool Temperature device page. But, I can't get an EchoSpeaks action to trigger;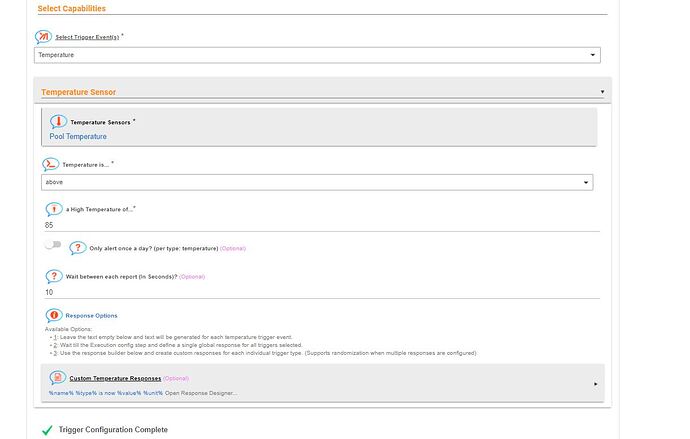 The custom action is this:
%name% %type% is now %value% %unit%
But, when I try testing using the slider in the EchoSpeaks app, the %value% seems random. I looked at the EchoSpeaks code and it looks like that's what is intended when the action is executed in test mode.
Should the action trigger repeatedly when the temperature conditon is met? Or just once, when it first exceeds it?
I haven't been able to get the action to trigger using less than, equal to , or greater than the threshold.
Looking for an easy answer (like what I'm doing wrong?) before I do a test driver that just has "TemperatureMeasurement" capability and a state variable "temperature" to isolate the problem.