Looking for advice on how to accomplish this.
I have a Hubduino device - Linknode R8 - essentially 8 relays that appear as 2-way switches. 4 of those switches control my pool pump speeds, and I'd like to use the 5th switch to control my pool lights. The pool lights work as below: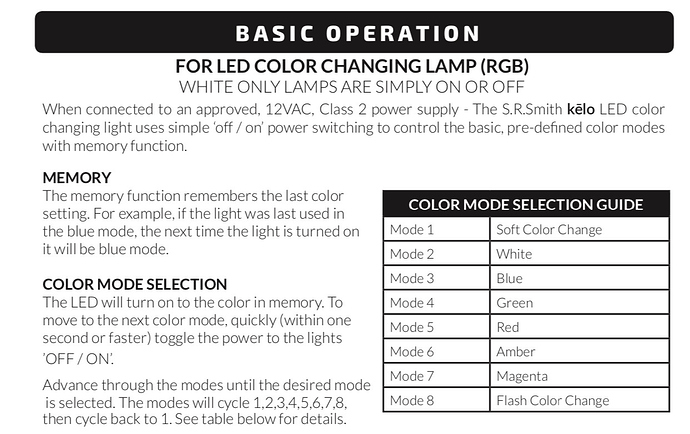 So instead of just turning the lights on/off, I'd like to be able to control the colors without having to perform the on/off sequences manually. So either a color picker or buttons per color (red/green/blue, etc).
So, how would you tackle this?
I don't really see a good way to have a single driver that supports the 8 different color modes unless I try to mimic the color bulb capabilities. Even then, I'd have to be able to translate the selection on the color picker to a color then perform that many on/off sequences.
The other option I see would be to edit the Hubduino Switch driver, perhaps use the Hubduino RGBW driver as a semi-template or the regular switch driver as a template, then update the esp code to send switch 5 to this new driver that would either mimic color picker or have custom commands to turn colors on/off.
Any guidance on the best way to do this?
TIA!