I created a rule in rule machine, it was intended to slowly dim my kitchen lights down over a half hour with a time-based trigger.
I found that if I tried to make any subsequent changes to the dimmer level after the rule had triggered, the rule didn't cancel the remaining fade steps, it would go right back to where it was in its fade countdown and continue as before.
I deleted the rule, I haven't had a chance to figure out how to recreate it with a cancellation of the remaining fade steps if someone physically changes the dimmer at the switch while the rule is fading down.
I subsequently created a rule that would dim the kitchen lights down if someone turns the lights on at the switch during evening mode (over 2 seconds). The condition is kitchen lights >60, the action is set level 60 fade over 2 seconds, restricted to evening mode.
Last night I noticed that the kitchen lights were rapidly dimming up and down. I looked at the event log for the device, and the slow fade over a half hour was clearly running (the action executed by the rule I deleted). Here is a shot of the event log from the device.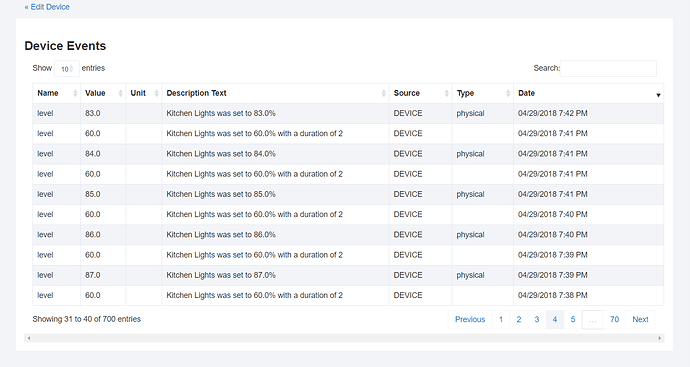 I just double checked to make sure I don't still have a rule that's visible in the apps list. And there's no other rule that should be executing the same actions. Why are the actions from the rule I deleted still running?