Hello everyone, I hope a dev can give us a hand to solve this limitation.
After reading almost all forum threads about chromecast, android tv, shield tv. I hope this time will be the right one!
Like several other people in the community I have an nvidia shield and I would like to make sure that I can manage the lights, among other things, when we listen something on the shield. Currently there is only with the Plex communicator application that we can do something interesting. But as the name says, it only works with Plex.
After trying different approaches, the only one that seems viable to me is to use Chromecast integration (beta). That if the mediasource is different from "none" then turn off the lights for example. This way it works for this action. However, I notice that in the current state of the device. The value of the "status" attribute always remains at "idle". I assume this is a bug in Chromecast integration? It should be able to display at least a status "playing, stopped, paused, idle" with that we could automate everything perfectly.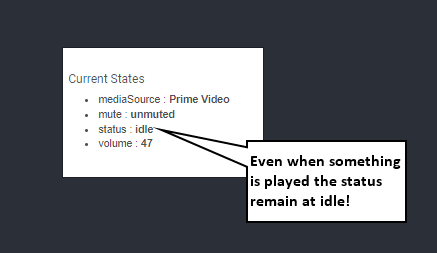 I hope someone can help us on this one!
Cordially,