Thanks for posing this @jkp, was about to start a BF/CM thread for smart home devices!
How well do the fibaro and aqara devices work on Hubitat? Any other favorites on this list?
Disappointed, Was really hoping the water shutoff (zac36) was going to be here…
Wish they sold direct to Canada, always good sales there and lots of selection.
Amazon has their early deals for Ring devices, and if you need a whole mess of 700 series Z-wave devices, a couple packages are semi-decent deals (the $200 one being the best). Obviously you can just take the Ring hub to Goodwill or something, since you wouldn't need it. A good deal if you don't have keypads and want to get started with HSM.
If you click through to the $150 package they also offer you a bundle where for $10 you get Ring Z-wave smoke listener and flood detectors (although I don't know if here are Hubitat drivers for these).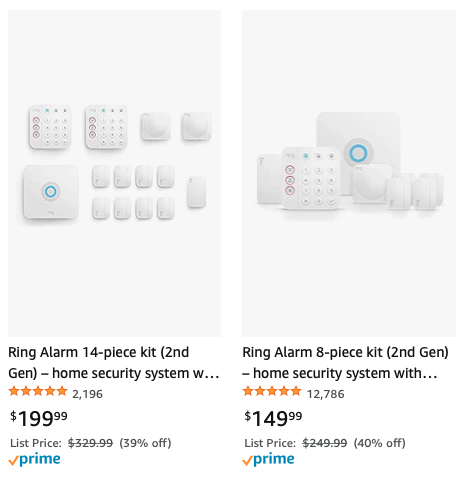 Costco also have a RING 10 piece set for $129 which seems like a pretty good deal.
Nice, that is the same kits as the 8-piece above, but with 2 extra contact sensors, and for $20 cheaper.
There are good prices on the First Alert Smoke/CO Z-Wave Detectors. Costco is selling a three pack for $79.99 ($20 off), and Amazon has reduced their price to $33.94 each. I only needed two, so I bought them from Amazon.
Sinope has a nice sale on thermostats and all Zigbee devices...
Amazons sales on fire TV devices
Good deals on Roku also. The community integration is outstanding...
Does anyone know if this Aqara button that Zooz is selling is one of Aqara's new Zigbee 3.0 products?
I don't think so; the new model is reported to be WXKG13LM, while the one listed on their site is WXKG11LM.
On a related note, I saw that they started selling Xiaomi/Aqara recently and was pretty shocked--both because they've historically been a Z-Wave store and because I'm not sure these older models were ever intended to be sold "normally" in the US (which I think the new ones are supposed to be, though they are still pretty hard to find). So, it's possible someone knows more about this...
On another related note, this thread has some more information on the "new" devices:
Thanks...if those are the old models then this seems really odd to me as well. Zigbee + non-standard Zigbee doesn't make much sense in a Z-Wave store.
...I think Smartest House raised their price on the Hubitat since yesterday...?