Wondering if one app takes priority over the other, or rather how not to create a conflict.
I has set up some lighting rules by mode using Rule Machine for the dimmer in my hallway. But I want to add a motion rule on top of it for one of the modes.
My modes are Morning, Day, Evening, KidSleep, and Sleeping.
Ex:
Morning Mode: Turn on the hallway light 5% on motion. Keep light on until Day Mode.
Day Mode: Off
Evening Mode: Turn on 15%,
Kids Sleep: Dimmer to 1%.
Sleeping: Off. Turn on 1% with motion. Turn off after 1 min.
I suspect I have a conflict in the Sleeping mode between Mode Lighting turning it Off and Motion Lighting turning it on. The light is not turning off when mode changes to Day.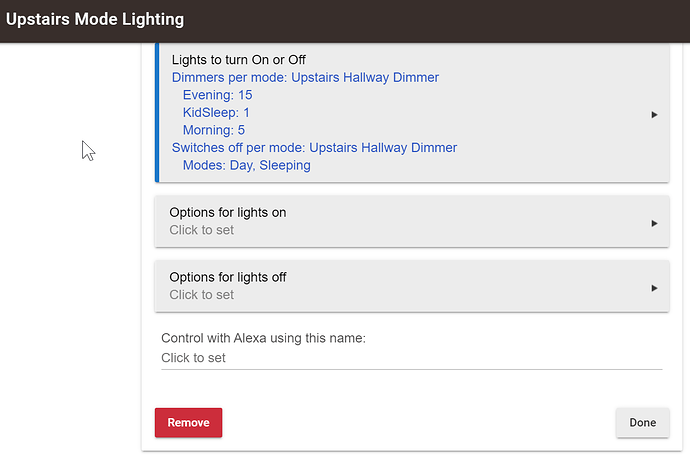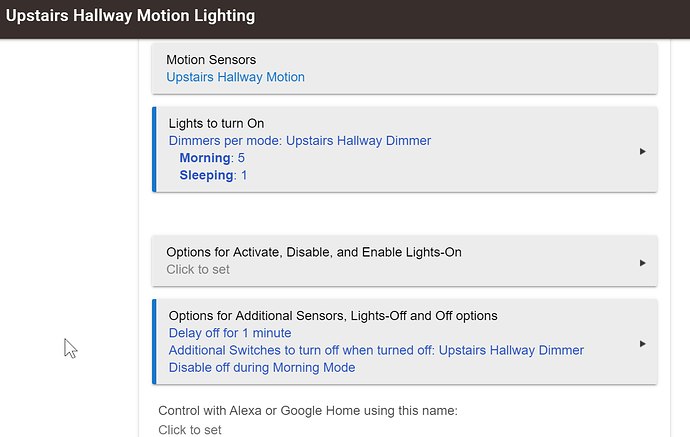 Am I better off managing the lights in Rule Machine rather than using Motion Lighting for the motion part? Time to ween myself off of that crutch, I guess.