I'm in the process to (slowly and painfully) migrate my smart house from ST to HE.
On ST one of my lock was the Gen 1 August Z-wave lock (with the firmware frozen at 1.59.0-1.8.15, the last "good" Z-wave version). Lock worked as expected, and fully controllable through Z-wave.
However, I have not been able to pair the lock on HE. The lock is discoverered quickly, but the process get stuck at "The device is completing bootstrapping…"
So far I have tried the following (with a proper exclusion or Zwave reset before each attempt):
Pair with S2
Pair with S0
Move the lock within few inches of the hub
Perform a full lock factory reset
Below are screenshots of the (failed) process. Each attempt triggers a ghost device in HE that has to be removed by exclusion or forced deletion, and the August app indicates that the pairing as completed in S0.
I'm out of ideas on what to try next, and would appreciate any feedback, guidance or advises.
Thanks!
Loic
HE screen where the process gets stuck: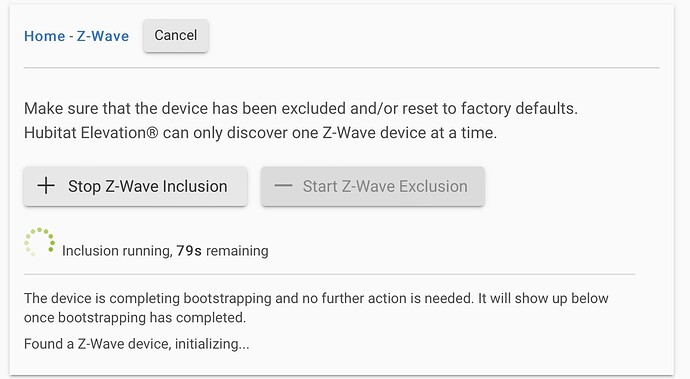 HE ghost device created:

August app screenshot: