I would really like MQTT Subscribe and publish in Rule Machine'?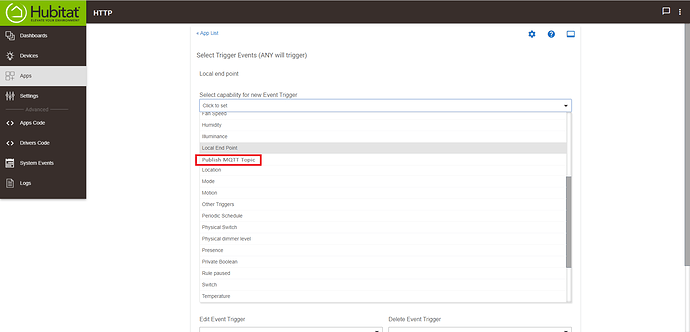 To trigger a Rule and
To push a value via MQTT.
I realise there is probably a convoluted way of doing some this with say a virtual dimmer with a custom driver doing the publish, using a custom action in a rule.
I would love to be able to trigger rules from one of my MQTT subscribed devices.
Here's an idea using a Tiny Web Server to convert an HTTP GET call to an MQTT publication
            if (Request.Action.ToLower().StartsWith("mqtt"))
            {
                //e.g http://localhost:82/mqtt.svs?topic=test&value=123

                if ((Request.ArgArray[0] != "topic") || (Request.ArgArray[2] != "value"))
                    throw new Exception("Invalid paramter");

                string topic = Request.ArgArray[1];
                string value = Request.ArgArray[3];

                /// create client instance
                MqttClient client = new MqttClient("localhost");

                string clientId = Guid.NewGuid().ToString();
                client.Connect(clientId);
                
                // publish a message on "/home/temperature" topic with QoS 2
                ushort resp = client.Publish(topic, Encoding.UTF8.GetBytes(value), MqttMsgBase.QOS_LEVEL_EXACTLY_ONCE, false);

                string sjson = JsonConvert.SerializeObject(client);
                
                //Send back last value usefull
                HTTPserver.Response(sjson);

                //client.Disconnect();

            }