Ok. So I know there's a ton of posts about garage door openers and zen16 integration, but I can't find any that help to wire just a regular garage door opener. Perhaps I'm just without shame for asking what might be a simple question.
Based on garage door opener schematic provided by Zooz support pages (attached below) it looks like I need to put this lovely black box somewhere near the momentary wall button in order to wire it correctly.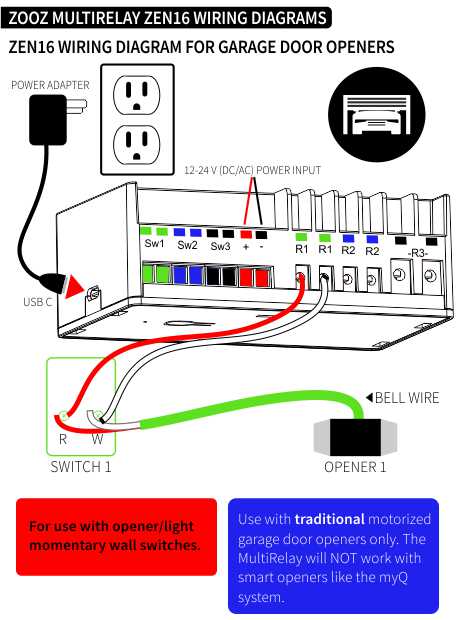 The wires from R1 go to the terminals on the button, which is also where the wires that operate the garage door are currently connected.
I think I understand why -because the same momentary close-circuit signal that is set from a physical button press also simulated when controlling from the zen16, and in-turn a physical button press will cause the zen16 to report open/close respectively
But I'm trying to think of an alternative method that results in the zen16 being placed somewhere near the opener unit, out of sight. - I can just hear my wife now - "what the he​:ice_hockey:
is this ugly box doing mounted right above the GD GDO button!" - sorry @agnes.zooz these are not my words, I think the zen16 is a marvelous piece of equipment!
Also, might be good to mention the original installers used cat-5e cable (only 2 strands), not bell wire, although that doesn't seem relevant.
More relevant is that the wires are hidden in the ceiling and wall to the switch (new construction home).
TLDR: Before I go and render my GDO inoperable, is there any reason I can't just splice the bell wires into r1 at some point before the wires reach the ceiling unit?
Please excuse my crude re-drawing of the original!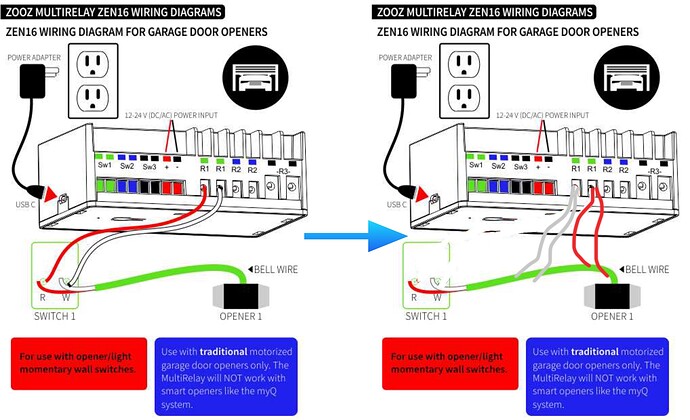 Thanks for hopefully a simple answer, but I'll accept complex if you feel like schooling me!