I have had a repeat of a past Z-Wave issue today, so I decided to do a write-up in case it happens to others.
Several months back, I was noticing some issues with my Z-Wave devices being slow or non-responsive. At the time, I had some Z-Wave mesh issues, so I figured that it was related.
At that same time, my Ring Alarm Z-Wave locks and keypad started to drop-out of the Ring Z-Wave mesh, so I called Ring support for assistance. After spending some time unsuccessfully debugging with their first tier of support, I got connected to a higher tier associate. He remotely connected to my Ring Alarm hub and was able to see a lot of noise on one of the Z-Wave frequencies. (I asked if I could have access to see that too, but could not unfortunately...). He suggested that some of the devices on my other (Hubitat) Z-Wave mesh were being noisy, and that I go to all my switches and air gap them one at a time. Alternatively, I could just power-down my house (shut down the main breaker) which is what I decided to do. Everything critical is on UPS, so it isn't a big deal for me.
After shutting down my house breaker and turning it back on again, I was able to re-connect my Z-Wave Ring devices and the Z-Wave devices on my Hubitat mesh also came back to normal.
The same thing happened to me starting last night after I tried to update the firmware on a couple of Inovelli switches - Slow / sporadic response on devices and first the Ring keypad going offline, then during the night the locks dropped out.
I recently got a Z-Wave toolbox and could see that there was a lot of traffic on my mesh, lots of sensors sending multiple copies of the same data. I could also see that there was more noise overall on my network. The 916MHz frequency which is typically very quiet was extremely active.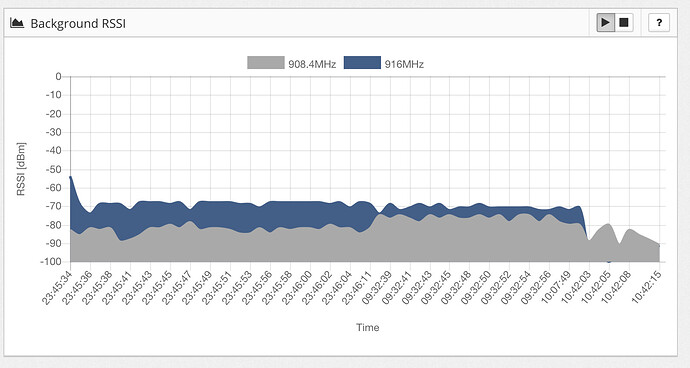 As a comparison, you can see the difference below before/after I "rebooted my house"...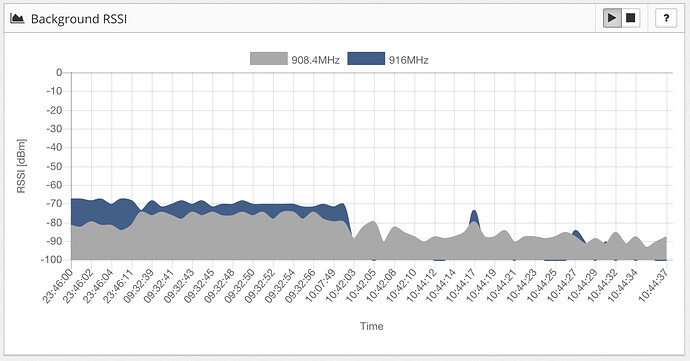 Unfortunately, I still don't know for sure the cause of the issue, but I suspect some of my Inovelli switches disrupted the mesh. I'll update this thread with future conclusions!
(I'm sure there are things I could figure out with my Z-Wave toolbox, but I've had it for less than a week now, so still learning!)
Have you had something similar happen to your network? Have you implement similar or different fixes that worked?