I'm trying to add two 'Linear WD500Z-1' dimmers to my new Hubitat hub, and having quite a bit of trouble...
I've successfully been using these dimmers on Wink, and then on SmartThings, and now am moving to Hubitat so that I can control the lights the way that I want them to be controlled.
Although it's a royal pain in the rear, I am able to exclude the devices from the other hubs, and get them to go into pairing mode. I was able to successfully add one of the dimmers to the Z-Wave devices list, but when attempting to add the second dimmer I encountered a perpetual "Initializing" loop. After resetting the z-wave stick, repairing the z-wave network, and re-attempting to add the devices 'cleanly', I am unable to get either of the devices to get past the 'Initializing' step.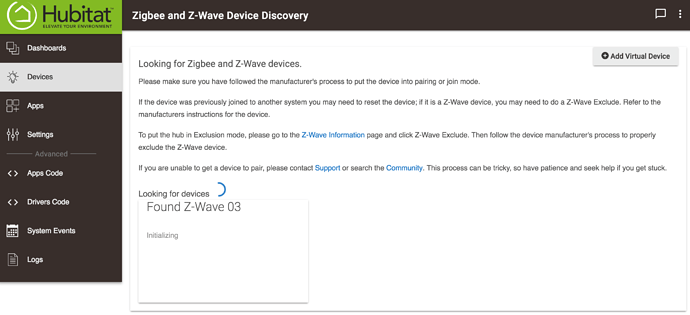 Has anyone encountered this behavior and been able to get past this problem?