Greetings Hubitat!
I am in the throws of doing the final push migrating from my old Vera system to HE. I had success pairing a Leviton Scene Controller (VRCS4) and Leviton Dimmer (VRI06-1LZ) with HE so far. Both of those devices are located in the same room as the hub. I also have had no problems "pairing" ethernet/wifi devices nor achieving just about anything else with the system.
The trouble today is pairing any other ZWave device in my home. I have performed the exclude process multiple times using multiple methods (Vera's UI, Aeon/Aeotec ZStick, Minimote, etc.). I also have factory defaulted the dimmers multiple times. Aside from those first two pairings, I am stuck. I've tried moving the hub too and that improved things slightly — see the attached screenshots. I now can occasionally get to a place where the new device is seen by the hub but nothing else happens. I looked in the web console and there's an entry stating "checking index_" which endlessly increments as it repeats. What makes this even more strange is if I leave the Device Discovery page to do other things with my hub, then return, I still see the exact same thing "Found Z-Wave 08," a spinning wheel of death, and the endlessly repeating log entry (which restarts from 0)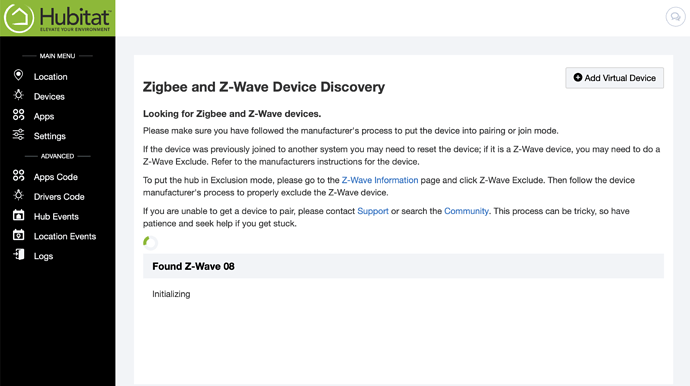 What else can I do? I was shocked at how easy it was to detect and pair the first two devices I added. I have been at this for an hour factory defaulting, excluding, etc. to no avail. I also no longer have a working Vera system as I've unpaired my devices from the old controller to migrate to Hubitat. I am frustrated that there is nothing available to diagnose this trouble either. Is there some sort of ZWave network monitor so I can see where the signals are dropping or messages not being received?
Thanks,
Richard