Is it just me? I like the remotes but on my wall I just want a plain ole rocker
That's the thing, I don't want automations
Then why not install a plain Decora switch or toggle switch? Perhaps I'm not understanding you correctly.
Are you actually looking for a switch? The Lutron Caseta Switches are, in my opinion, quite "normal". Top button on, bottom button off. You can also get Picos in this configuration. It's the dimmers that are kind of strange (although we have grown to like them).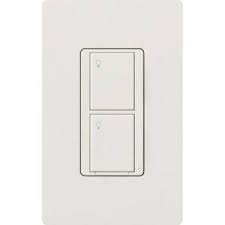 They have other smart home product lines with standard-looking decora switches, but they cost more.
Because I also want to be able to use motion sensors
I say those. I just wish caseta made a product like the zooz. A rocker and dimmer
Caseta is a product. A line of products really.
Lutron is the company that makes Caseta devices.
Anything's possible, but it would be a pretty significant shift if they brought decora switches into that product line.
RadioRA 2 and RA2 select are the only product lines that include smart rocker switches. Or Homeworks, but that's even more expensive than RadioRA 2.
But Ugly Eric! Lol. (I Know, beauty/eye/beholder)
That's the only reason I haven't switched yet....never mind the crazy number of Zwave switches I have....lol
I too just wish Caseta had plain old Decora paddles...
S
I have to agree... WAF has been very low on this unfortunately - I have been able to sneak a few in here and there (basement etc).
My wife has never complained about our Caseta switches, dimmers, fan controllers, and pico remotes. I think it helped that I also deployed Claro wall plates at the same time, which provides a very clean, screwless appearance. Definitely have to go "All In" and change them all over quickly, to avoid any confusion amongst family members. Now, pretty much all lighting in the house is fully automated, so no one has to touch the switches. And... they just work, every time!
Same here - on both counts! And no ghosts, no rebuilding a mesh, no nothin!
Which Is THE reason I consider them regularly. But still can't get past the Ugly part. Lol
S
She's not a fan of the "look".. to high tech for her. That's why I had to go with Zooz Toggles everywhere. At least the always centered thing didn't bother her too much.
I did manage to put a pico control in our den.. and she seems to be using that without too much complaint... one step at a time.
I figured I could tolerate looking at myself in the mirror, I could handle the Caseta look

Yeah - me too I guess.
The real reason I don't like them, is that they are needlessly complicated - to me. When I must touch a light switch (automation rules!) then I just want up for on or down for off (unless I'm in some far flung part of the Empire, where they do things backwards!) -- No feeling around in the dark wondering -- is that the top button or bottom button, or do I need to hit the little triangle on the corner....meh. Give me a Decora Paddle any day. Clunky, simple - Effective!
Lutron will happily do that. But as @marktheknife points out, at a price!
Yeah he did. You note I carefully ignored that. I think I just don't want to know ---or perhaps I'm cheap...lol
S.
I'm very happy with the upgrade I made from Caseta to RadioRA 2 when I bought a new house recently. Rocker style switches and dimmers is a nice bonus, but I wouldn't have paid the premium over Caseta for that alone!
I did a quick look, it seems ok, but I like caseta better, HomeKit and all. With HomeKit making it easy to make them control hue, I think it'd be a hit
Also harmony remotes