I may have had some issues with Centralite 4200C, and might like to try another.
Prefer non power sensing.
Thankss.
Which hub? C-5/C-7 or C-8?
For the former, I haven't found good plugs, but Tuya USB repeaters are great. For the latter, my original Iris v2 plugs work well.
I have had good luck with Innr SP 224 on my C-8. They serve as good repeaters and have been reliable.
Edit: For the SP 224 you should click on the "Update Firmware" button on the device page after installation. There were reported issues with the old firmware, but I have not had any issues after I updated the firmware.. FWIW I updated the SP 224 firmware on a C-7 prior to migrating to the C-8.
I use the ones marketed under the ewelink name, purchased from sonoff thru eBay. Round form factor, inexpensive. ZigBee 3.0, works well as an outlet and repeater.
@velvetfoot If you want some good plugs to boot, these work well as repeaters.
If you just need repeaters, I would recommend the Sonoff dongle (not the dongle e). Rock solid on my C-8.
Zigbee 3.0 is something to look for?
I used to recommend the eWeLink 10 amp smartplugs, but after several of them died during a power outage this winter during an ice storm, I have switched to Third Reality 15 amp plugs.
There are two different versions of the plug. Gen 1 plugs do not have power reporting. Gen 2 plugs have power reporting, but should only be used if you have a specific need to report power. There have been numerous reports of excessive traffic on the Zigbee network due to power reporting. Besides, the Gen 1 plugs are less expensive.
https://www.amazon.com/THIRDREALITY-Real-time-Monitoring-Compatible-SmartThings/dp/B09KNDM4VV/
This picture tells the repeater tale.
As @Ken_Fraleigh wrote if you are just needing repeaters I've not found anything that is more of a zigbee magnet then those Sonoff dongles.
Without the Sonoff dongle Tuya repeaters seem to be just a touch better than Enbrightend in wall switches.
I've got several other zigbee plugs that can repeat but with Sonoff, Tuya, and Enbrightens in the mesh nothing goes for those plugs.
Then if you need an ugly and bulky plug that does repeat halfway decent there are Tradfris that are like Tuya and Sonoff in that they play well with cheap battery powered devices made by Xiaomi and Sonoff.
This is all based on radio power set to 8 and these devices along with that power level seems to like Sengled bulbs. This is setup in a single story 2200 sq ft 63' end to end with hub in the middle.
When I tested at higher radio power Sengled bulbs and battery powered devices would not stay connected and it felt like what was intended to be a zigbee mesh turned into zigbee hub and spoke that could not hold on to everything.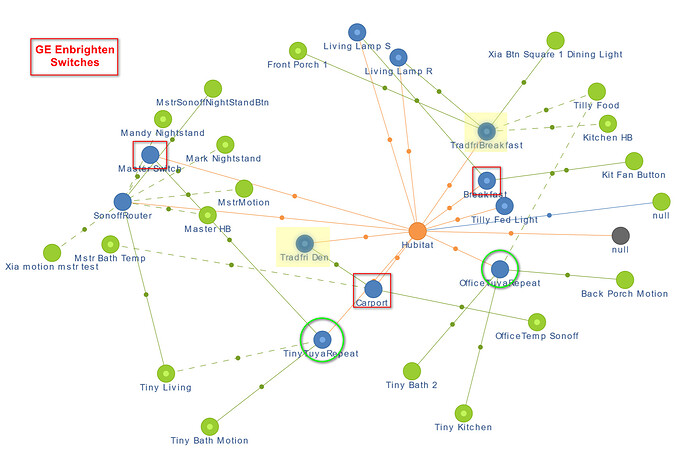 I added a Sonoff dongle but nothing is routing thru it. I have 12 Zigbee battery devices that are routing thru 2 ST plugs, 2 Centrolite 4200C plugs, and 2 Innr SP 224 plugs. I even tried shutting down the hub for 30 minutes, hoping the Zigbee panic mode would cause some devices to route thru the Sonoff dongle, but they did not.
It appears that the battery devices like the old routes better. They don't want to try something new like the added Sonoff dongle, even though the dongle has an LQI of 221, incost 1, and outcost 1
Everything is working fine, though. I have not had any of the Zigbee issues that have caused some problems for others, so I am not complaining.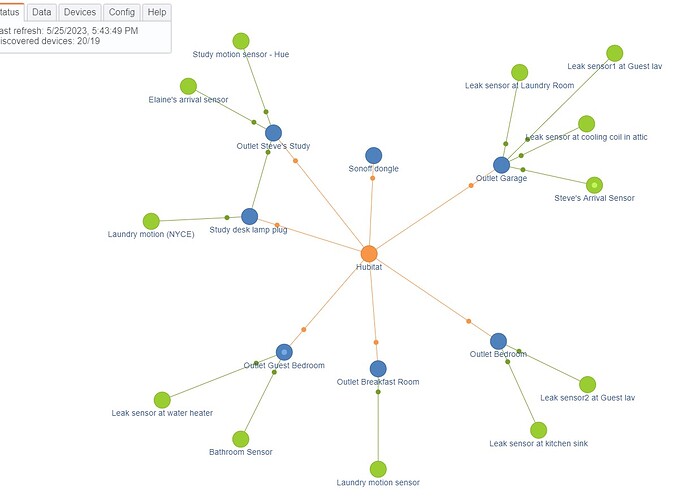 You probably would need to do a battery pull on the sensors to get them to change parents.
@Ken_Fraleigh .....Just pull the battery on each sensor...for how long? Do I shut down the hub for 30 minutes again to cause a panic mode?
I may be wrong, but I think they send out a rejoin whenever the battery is removed and then replaced.
OK.....I will give it a try. Thanks
+1 ...agreed based on my experience with several as well. Enough said, click that luscious link.