I acquired a couple Samsung buttons.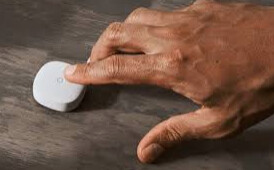 They can be stuck anywhere with a sticker of course, or they can just be 'mobile' - I programmed one for the GF so she can enable/disable and increase brightness of the kitchen strip lighting. Just a simpler way then remembering the commands -
Anyways. While working on a dashboard tile, I was using @bptworld Average + (and Tile Master 2) to create a single tile that showed Indoor and Outdoor temperatures in a nice way. Lo and Behold one of the devices that identified itself as a temperature sensor were my Samsung buttons!
Really nice to know you can set down a button device anywhere in the house and get a reading of the temperature. It may be overly obvious to many, but in my dashboard, it was showing only as a button by default and I never saw the feedback on temperature until I stumpled on it by accident!
Since all my motion sensors are up high, they report a somewhat unrealistic temperature. These buttons allow me to offset the average a bit, since I can set them 'low' - on desktops, counters or tables and pull down the house average to be more real!