When constructing a dashboard: The "Variable String" template seems like the best (possibly only) way for a Dashboard User to provide string input data directly to a user device (i.e., without hopping through a Rule Machine global variable).
Is there any facility available for making the resulting tiles more user friendly?
On Tile Creation
Is there any way to adjust the "Variable String" and/or "unknown" text entries on the tile?
The default information does not inform prospective users about the purpose of the string being solicited.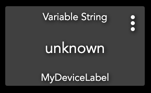 On Data Entry
If the user drills into the tile, the information on the tile is slightly better. The user still may not know what is being solicited.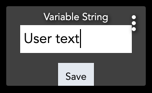 Post Data Entry
Once the user clicks "Save", the tile seems to freeze on the message "Sending...". The user gets no sense that the data did (or did not) meet any purpose. The user can click on "Sending..." to provide more data, but won't know whether (s)he should do so or not.

I expect to have some additional tiles that will provide some context (e.g., show a related value, use a text string to prompt data entry or offer feedback on what was entered). [Manipulating the device label seems like a bad idea.] I am hopeful that the contents of the tile can be manipulated for a better user experience - even if we are limited to static text entries.