Hi all. I need help troubleshooting my zwave network. I have a brand new Zooz Zen73 switch and ran the inclusion setup without any problems. I brought the switch near the hub and ran the setup while it was temporarily installed as a switch near the hub. Then I moved the switch to the outbuilding and have been trying to get it connected ever since. When I try the network diagnostic tool on the switch, I get a flashing green led for a few seconds, then it stops flashing. Flashing green means it has a weak connection to the hub, but I don't think that is correct (see below).
I have tried several different troubleshooting steps, but now I am to the point that I have temporary wires run in such a way that I have two Zooz Zen73 switches about 80 feet apart in full line of sight, and still can't make a connection.
My setup...
I have a metal outbuilding about 50-60 feet from the back corner of my garage. My hubitat hub C-5 is in my kitchen, in the center of the house. In the garage, there is a zwave switch on the interior wall that has a stable connection. On the outside of the exterior wall of the garage, I have temporarily installed a Zen73 switch in an effort to make a connection to the outbuilding. To be absolutely sure, I have even pulled the switch 4 or 5 inches out of the box so it is totally exposed to the outbuilding. This Zooz switch, when put in network discovery, shows a solid blue led, meaning it has a good connection to a repeating node. For the Zen73 in the outbuilding, I have run temporary wire to the outside of the building to eliminate the chance of the metal siding causing interference. When I run the network diagnostic tool at the outbuilding switch, I still get the momentary green flashing led.
I have tried the zwave repair tool on the hubitat. That doesn't seem to help. I have moved the garage Zen73 to other places in the garage, finally landing on the outside switch in direct line of sight. The garage Zen73 only has one node between it and the hub (I believe), so I don't think it is maxed out on hops.
See the log screenshot below (sorry for the poor quality). "Node 12" is the garage Zen73. What do those debug entries mean? "Node 13" is the outbuilding Zen73. I assume the repeated "repair SUC route" is the hub attempting to make a connection to it (and failing)?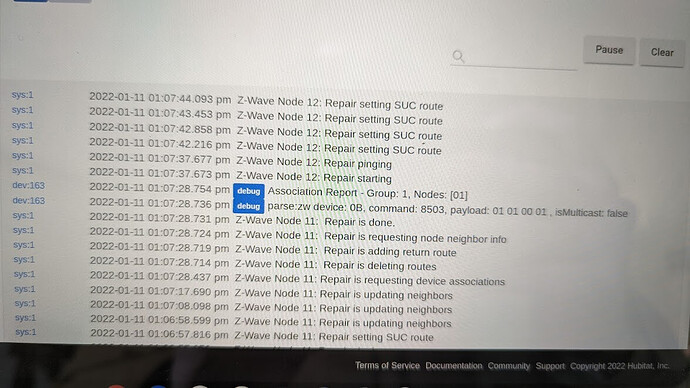 ETA: Added bold emphasis on the current setup.