Hi there,
I have acquired a coupe of Tuya 4 Gang Switches and each button has three usable functions (push, double-tap and hold) leading to 12 programmable outcomes per switch.
HE correctly identifies them as Tuya Zigby Scene Switches (TS0044) , but the options are exposed as push, double-tap and release (the last one being a little counterintuitive and requiring a 5 second press and release in case anybody else has the same issue looking for hold)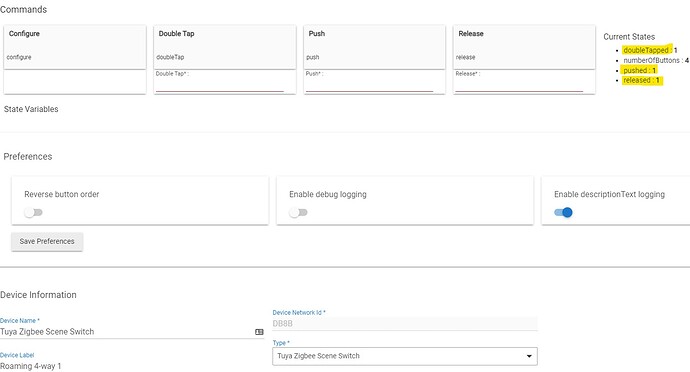 That I would like some assistance with is two things please;
How to decrease the hold timeout - five seconds to trigger a "release" seems a bit excessing and I can't see where to edit this driver.

Advice on how to group the functionality in one app - I can program each button as a freestanding App and that works fine, but it seems inelegant and when trying to group them using multiple triggers under the latest Rule Machine then there is no button object to select under the actions to initiate related task aligned to one of the 12 potential triggers.
Any pointers on the above please?
TIA