I'm trying to track the number of windows that are open to then use with a rule for my whole house fan... They require a certain number of windows to be opened to allow enough airflow to prevent back-drafting. So, I only want the fan to turn on if X number of windows is open.
I'm thinking I can use a global variable to do this, but I can't figure out how to setup the rule. I have contact sensors on all of my windows (Ring Alarm integrated with HE), so I want if a window opens, add 1 to the global variable "Open Windows". This is easy enough for one window - contact changed triggers the rule, if the contact is open, add 1 to global variable, else if closed, add -1 to global variable. However, I don't want 34 rules to accomplish this...
Does anyone know how to best write this without needing 34 rules? How I initially thought to write the rule (see below photo) isn't working... Since the rule is triggered by contact changed, when any of the windows are opened or closed, right now it's checking if any of the windows are open, unless I'm closing the last window, there's at least one window open keeping that condition true, so even if I close a window, it's saying yes, there are windows open, and adding 1 to the global variable instead of subtracting 1.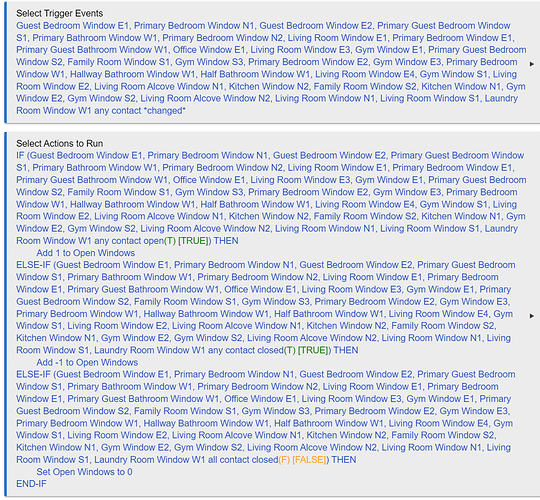 Any help would be appreciated... I really don't want to write 34 separate rules for each window to add/subtract from the variable of their own accord...