I have a thermostat (Honeywell T6 Pro Z-Wave) that controls a large heating zone for most of the house including the living room, master bedroom, bathroom, etc. It's mounted in the living room. In the master bedroom, I have a temperature sensor (Sonoff Zigbee, named "Crib Sensor"). Because the master bedroom gains and loses heat more quickly than the living room, where the thermostat is, I'd love to use the average temperature of the thermostat and the sensor when demanding heat for this zone to make temperatures a little more even.
I've set up a virtual thermostat (called "House Controller") with the Thermostat Controller app. Here's what it looks like:
When I turn up the temperature on the "House Controller", nothing seems to happen (for example to 74º in the screenshot below). The Honeywell remains unchanged, radiators stay cool, and I still have manual control of the Honeywell. What am I missing? I expected the Honeywell to turn up the heat as well as a result of the turning it up on the "House Controller".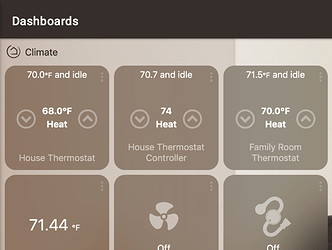 Inside the Thermostat Controller app, the status of the Honeywell is "Controlled" (see above screenshot) but outside, in the list of apps, the status says "Free". Is that expected or am I misinterpreting what the status in the list of apps means?

P.S. I've changed the Thermostat Scheduler app to control the virtual thermostat instead of the physical one, per instruction in the docs, but I'm not sure that matters here, because I'm not getting what I expected even without the Scheduler.
Cheers.