I'm trying to set up the Thermostat controller App to control my home thermostat based off the average temperatures of several sensors I have throughout my house and I am a bit confused on how to get this App to work correctly.
What I am trying to achieve is, when the average temperature drops below 69 degrees I want to heat to turn on and when the average temperature goes above 72 degrees I want the AC to turn on.
here is what I currently have.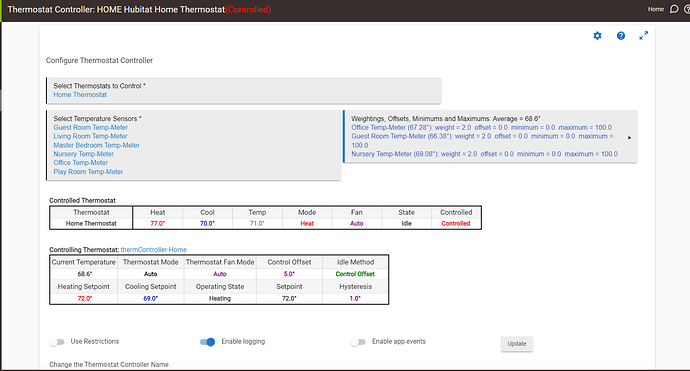 am I close?
I also would like more info on what each of the boxes mean. currently if I'm reading things correctly it looks like my Controlled Thermostat (so I'm guessing that is my real thermostat thats in my house) should be set to 77 degF with a current temp reading of 71, it should be in Heat mode with Fan set to Auto (I'm not sure what the State Idle means) and it is being controlled by this App.
but when I look at my actual thermostat the mode is OFF and it is currently reading 71deg F
so why is my heat not turned on and set to 77?