I have 3 narrow vertical south facing windows in the Living Room directly opposite the TV. Having 3 bright reflections on the TV is to say the least.... annoying.
So I installed 3 sets of double roller shades with a blackout and sheer shade.
First things first, TV is on, open the Sheer Shade and Close the Blackout Shade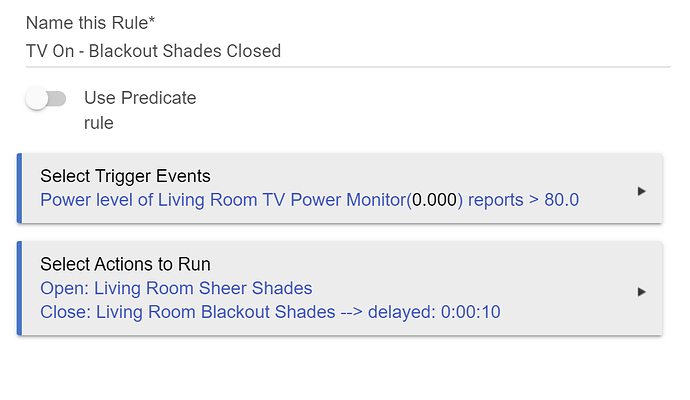 But I also want both sets of shades open during the day at this time of year to take advantage of that solar energy warming up the Living Room. Easy enough....


**EDIT: Not easy enough.... first version of this rule relied on the Power Meter as a trigger, which only reports on a changed state. I've changed it to use Sunrise as the trigger, and the Power Meter as a condition.
Now here's where things get tricky, I don't want to create a loop that causes a conflict.
In the warmer half of the year, I'd like to keep the Sheer Shades closed if it's above a certain temp outside to limit the amount of solar heating coming through those windows. I do have an outside temp sensor I can reference.
How do I go about expanding the existing rules, (or creating a new one) that won't cause a conflict that sees things crash, or has my shades endlessly opening and closing?