Hello community,
I have a small problem with the integration of my smart heating system in the roam of hubitat and i hope, that someone can help me out.
I have got a water-based floor heating with a room based control. A few weeks ago I startet replacing my rool thermostats and everything was working as it should. My current problem arose when i wanted to replace my bathroom thermostat. Because of the size of the tado thermostat and the aragement of the current thermostat i couldn't just replace it and tap into the existing wirering for the heating-actuator. I wanted to work around the problem by not connecting the Tado Thermostat directly, but using it as a thermometer and control unit. By using the TADO connect app i wanted to poll the thermostat state (heating / idle) and use it to switch a zigbee switch connected to the heating-actuator. So this would, in theory, only be a remote switch turning on the actuator instead of the direct connection to the Tado-thermostat.
I installed and connected the drivers and the Tado connect App.
The Problem is, that the only time, the thermostatOperatingState is "idle" is, when the thermostat is turned completly off. If it is warmer than the setpoint, and therfore the relais is off (-> not heating), the thermostatOperatingState is "heating"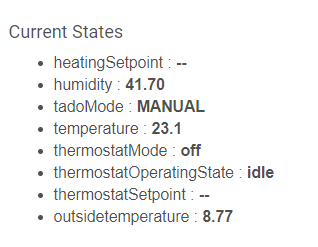 How can i get the state of the relais? Why is it showing "heating", when it is not heating?
I realy hope you can helpe me out,
best regards, Nicolas