Hue Bridge is no problem as long as it's on a different channel, which I'm sure it is.
Hue Bridge Channel 11, HE channel 12. I have no concern about bulbs, I have some Xiaomi senors (motion, temperature/humidity, window/door) and one Hue Sensor connected with HE directly.. That's the part I am looking at..
Oh, that's awfully close. More channel separation would be better. Hue on 25 works well in my home. HE is on 13.
Leave HE channel alone. 12 is fine, but I think you would be better to have Hue on a higher channel.
I changed my hue channel to 25. why you think channel too close is not good? what do you expect if channel changed to 12 and 25?
Adjacent channels overlap slightly. If you have more separation there no chance that one can cause issues with the other.
It does...kinda...but I haven' found it to be particularly helpful. Xiaomi sensors do not show anything for me. This was when I was in the process of rebuilding my mesh after pairing two Xbees (top left, top right). Xiaomis are the bottom row.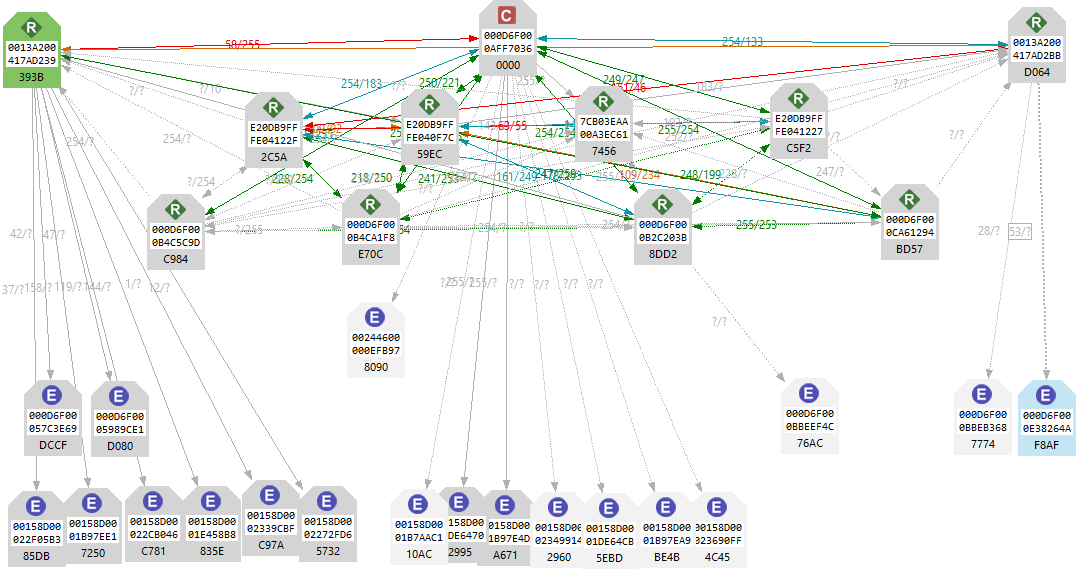 Yikes! I'm going to need to learn to read that. My Xbee is on its way. Are those RSSI numbers in between them?
I never really got too deep into Digi's manual. I just assumed they we LQI. I was more concerned about the relationships and trying to keep end devices from routing through smartbulbs(second row from top).
Yep. That's why all except my Sengled that don't route at all are on my Hue bridge.
I have swapped over to Sengleds since that screenshot was taken in July. I now have 23 Xiaomis routing through Xbees and four direct with the hub. Haven't had a single issue. It helps having the Xbees on battery backup too.
have you got a chance to see if signal strength (lastHopRssi)changed in the zigbee logs after xbee added?
Oh yes. Before the Xbees, some of my more distant window/door sensors were -80 to -90. Last time I looked, I think my worst one was around -60.
Do you mean saving Xiaomi devices battery by Xbees ? I have a Xiaomi Aqara temperature/humidity sensor which connected to HE directly. Its battery drained really fast since it reports temp/hum/pressure every 15 minutes...
No, what I meant was I have the Xbees plugged into UPSs, as well as the hub. If I have a power outage, all devices remain connected.
I have a few of the Aqara temp/humidity sensors and they only report when there is a significant change in temp or humidity and their regular 50 minute check-in.
Good idea to have Xbees and HE with UPSs
My sensor was working pretty hard...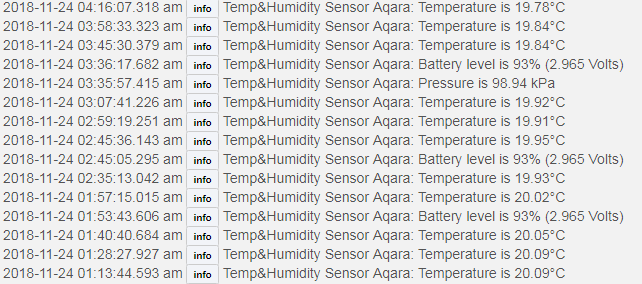 Yikes! what driver are you using? I'm using @veeceeoh Xiaomi device drivers and not seeing nearly as much activity.

That's good to hear. I have one of those on order. @olddoggy, did you get the square one or the original round one?
I have both round (original) and square (Aqara) temp/humidity senor under testing, both using [Release] Xiaomi device drivers by @veeceeoh, version 0.7
As I can see so far, original one only reports if temperature changes 0.5 C or more, or humidity changes 0.5% or more.
Aqara one will report more often, but the disadvantage is battery drained really fast. Mine is dropped to 93% after a week testing.