Its seems others have experienced this but the fix steps are removed from the posts by Support.
Oh and I originally wrote this to support@hubitat.com, but didn't realise that this is no longer monitored (received a canned message bounce back).
So anyway all I'm trying to do is completely wipe / decommission / factory default one of my C7 hubs as I will be moving to a C8 in the coming days (don't worry this hub is a reserve hub and I will be following the migration process from my production C7 when the C8 arrives).
Just to be clear there is nothing I need to keep on this second C7. I just want to completely wipe it.
I have been following the process outlined by BobbyD in the forums. I have 'reset' both the zwave and zigbee radios. I have unregistered the hub. I'm just trying to perform a 'Soft Reset' and remove the config(s), this is where it is failing with the following error 'Unknown Error Occurred' (see screenshot).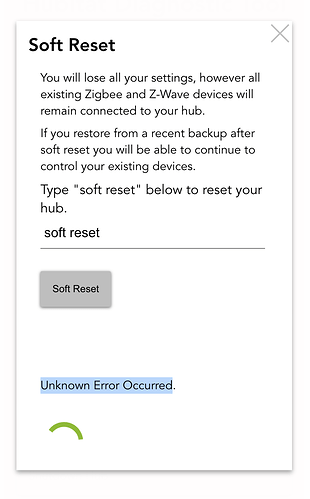 The device is then no longer reachable, but if I hard power cycle it then I'm able to reign using the old details i.e. the device still has its old config.
Any ideas please?
Thanks