Hello all. Working on getting a water sensor going to keep an eye on basement humidity. I grabbed a SmartThings Water Leak sensor since they are affordable. I've got it paired well and working but I'm curious if there is any way to get it to output humidity in a percentage or measurement? Currently all I get back is: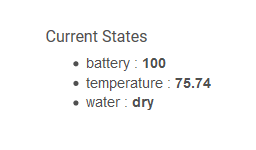 This is fine, but "wet/dry" is a bit ambiguous. If there isn't a way to force something quantitative out does anyone else have recommendations for a humidity sensor for a basement?
Edit: Seems I've bought the wrong sensor.
Thanks!