I have been using rule machine to activate scenes for a while now, and generally it works fine. Now that I am getting more comfortable with the c7, I am trying advanced configurations. What I have done is instead of triggering my rules based on time of day, I have them now triggering based on mode...and of course the modes are set by time of day.
What is happening now is that the mode is getting set when it is supposed to. The rule trigger is fired and invokes the scene. But the scene doesn't set the devices. Some scenes set some devices but not all...other scenes set no devices. I see all of this in the log. This seems like a bug to me, because I can invoke the scene successfully in the console, or by using Google Assistant, and like I said, it used to work when invoked by Certain Time triggers in rule manager.
Here is an example.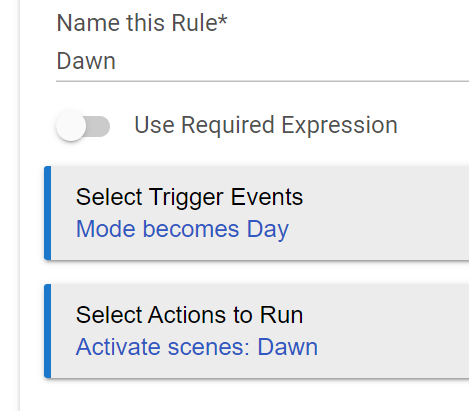 Notice how after Dawn was turned on, there are no devices that get turned off as my scene is configured.