Has anyone tried connecting to Samsung Smart Home washers and dryers?
I have my GE washer connected to Hubitat through IFTTT, when the washer is done I get a light that turns on for 3 seconds and a nice message from the google home device that says "The Washer is Done"
That's sounds good enough for me. Will give it a try.
Did you get this to work? I have a samsung Washer & Dryer also and would love to setup notifications so I can shut down ST once and for all.
Also I have not clue how to use ifttt, so if you got it working a walkthrough would be great.
Thanks
Otherwise is it possible to share the samsung washer/dryer with Hubitat (if it can't be integrated directly)?
It's REALLY easy to use IFTTT actually. All you have to do is go to IFTTT.com and follow the instructions to sign up and create an account. After you do, there will be a button in the upper left corner that says "Search". Just click on that and type "Samsung" and hit enter.


You will then see a tab that says "Services". Click on it. You will then see "Samsung Washer". Click on that.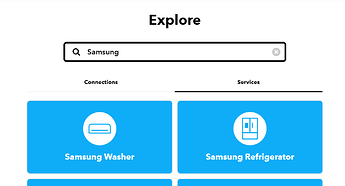 You will then see a button that says "Connect". Click on it. Follow the on-screen instructions to link your Samsung account to IFTTT.
Do the same steps to add Hubitat to IFTTT, except searching for Hubitat. You will need to have a virtual switch or something to turn on in Hubitat when the wash is complete. There are turorials on IFTTT on how to build an applet. But basically, you create a simple, if/then app with different services.
Yes I made it work. This above comment ↑↑↑ nailed the how to.
is there a step by step guide for this? i'm new to hubitat. I've connected my samsung washer to my smart things account and linked it to my IFTTT account. Is there a way to get my samsung washer to display as a device in hubitat? I want it to give me an audio message when the washing is finished?
You would create a virtual device in Hubitat and use IFTTT to turn that device on and off based on the state of the washer/dryer.
I've just ordered a set of these and would be great if there is a way to directly integrate it. If it works with smartthings I'm sure something could be ported over to HE. Or at the very least be done through HubConnect.
IFTTT from the samsung washer to Hubitat works great, but has anyone else noticed that IFTTT doesn't have a samsung Dryer connection? It's so strange but I that's where I'm stuck. Any work around as long as IFTTT is lacking a samsung dryer connection? Something via smartthings perhaps?