I'm still learning how to best set up small "complex" rules and could use some feedback on this one here. It's not working 100% of the time and I'm having a hard time seeing in the logs why that might be the case. I don't think the problem is with a Lutron Shades and Hubitat so that is leading me to believe that I still need to work on how to conditionally write my rules.
Goal: IF we are not both not home and the guest "switch" is off, THEN close the shades and turn off the fan.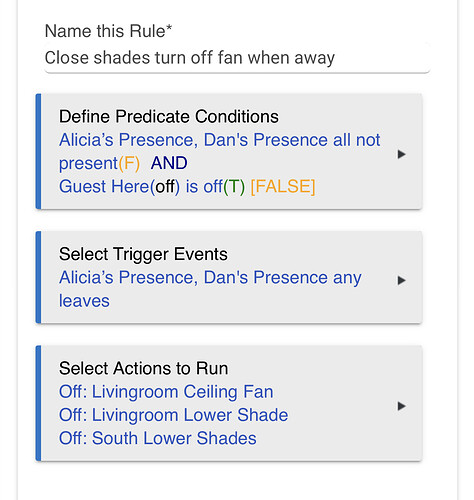 I'm still struggling to figure out the differentiation of predicate and trigger.
I should mention that the presence indicator is working as expected. When the shades do not go down I look at our presence and it does show that we are indeed away. I also double check the rule and see that the predicate rules are highlighted as true.