I've a rule I've been using a long time to bring on my landing and stair lights with the Landing PIR. It worked fine but due to both the position of the PIR there's a slight blind spot. Also I wanted the lights to come on as I'm ascending rather than when I'm up there stood in the dark. I've added a pressure mat half way up the stairs and amended the rule shown below to include that as a trigger: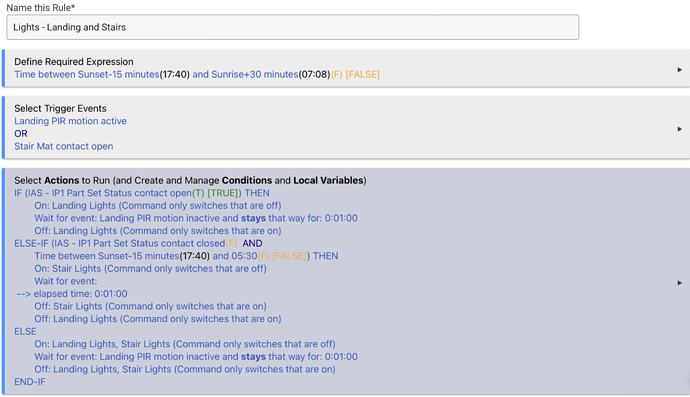 The issue is the "Wait for event: PIR motion inactive and stays that way for 01:00"...
When I go back down the stairs and step on the mat, the rule will re trigger and wait for the PIR to go inactive and stay. It's already inactive when I step on the mat so will not report that again and the light will stay on.
I'm thinking I can just add a timeout on the "and stays". When does that timeout commence? Does the timer start at the same moment as the "and stays" timer so I can just set "and stays" to 1 minute and "timeout" to 1 minute 5 seconds?