I am building a thing that will sync a virtual switch to 3 real switches. I expect that all 3 of my real switches will turn off when i turn the front lights virtual switch off. Turning front lights on will turn all 3 real switches on.
I can turn on the front garage light real switch and the other rule turns on the front lights virtual switch -- yay. But the problem is that when i turn off the front lights virtual switch, the Event: Front Lights switch off gets logged, but no actions ran or are logged.
At 01:28:21 I turn on the Front Garage Light real switch. The other rule (app:1577) comes in and flips on the Front Lights virtual switch. everything's happy.
At 01:28:29 I turn off the Front Lights virtual switch. The rule (app:1626) logs the Event, but no rules are ran. I would expect to get in If condition and turn off all 3 real lights.
Sync Front Lights Virtual to Physical (app:1626)

The other rule seems fine and not part of the problem. they do set each other's private boolean.
Sync Front Lights Physical to Virtual (app:1577)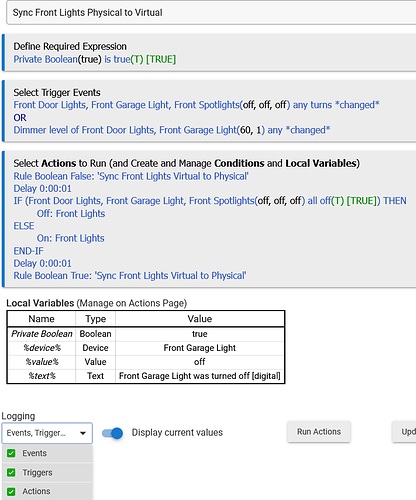 I tried to re-create this in a more slimmed down version, but can't replicate it. Did I stumble on something weird here?