Trying to move RM 3 over to RM 4. I have a motion light to turn on with a motion. After it is on and no motion the delay will turn it off. It will cancel off if motion trips before light times out.
In RM 3 I used 2 rules and this worked fine.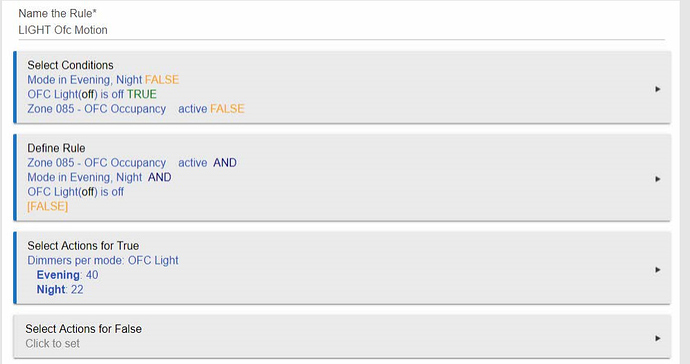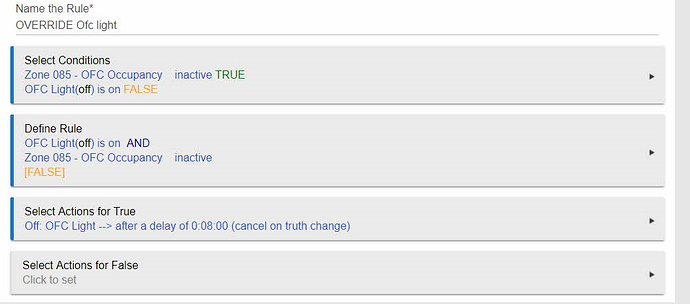 So I made a single RM 4 rule like this.

It is not working right. The light turns on, then turns itself off after 30 seconds. Then back on again with motion.You can see it throws a java error. My first rule writing is probably to blame but I don't know what I did wrong.
app:24492019-08-25 04:08:48.546 pm infoLight OFC Triggered
app:24492019-08-25 04:08:48.531 pm infoLight OFC: OFC Light switch on
app:24492019-08-25 04:08:46.613 pm infoAction: END-IF
app:24492019-08-25 04:08:46.610 pm infoAction: Off: OFC Light (skipped)
app:24492019-08-25 04:08:46.606 pm infoAction: Delay 0:02:00 (cancel) (skipped)
app:24492019-08-25 04:08:46.603 pm infoAction: ELSE-IF (OFC Light(off) is on(F) AND Mode in Evening, Night(T) AND Zone 085 - OFC Occupancy inactive(F) [FALSE]) THEN (skipping)
app:24492019-08-25 04:08:46.517 pm infoAction: Dimmers per mode: OFC Light Evening : 40 Night : 22
app:24492019-08-25 04:08:46.511 pm infoAction: IF (Zone 085 - OFC Occupancy active(T) AND Mode in Evening, Night(T) [TRUE]) THEN
app:24492019-08-25 04:08:46.454 pm infoLight OFC Triggered
app:24492019-08-25 04:08:46.439 pm infoLight OFC: Zone 085 - OFC Occupancy motion active
app:24492019-08-25 04:08:44.978 pm errorjava.util.NoSuchElementException: Cannot pop() an empty List on line 5606 (delayedActsCancel)
app:24492019-08-25 04:08:44.949 pm infoAction: Off: OFC Light
app:24492019-08-25 04:08:44.912 pm infoDelay Over: Delay 0:02:00 (cancel)