update
see this post for the newest rules:

original post
---
I created a rule to slowly adjust the color temp of my lights from 6500K down to 2200-2700K (depending on the light) throughout the day. I'm not trying to recreate a circadian pattern so much as I am trying to actively hack it by suppressing melatonin the morning and then having nice warm light in the evening to encourage melatonin production. The rule sets the color temp to 6500K right before my 5am alarm and then starts a downward march at sunrise and lands on nice warm lighting by sunset. for my sengled color bulbs I take them all the way down to 2200 over the hour after sunset.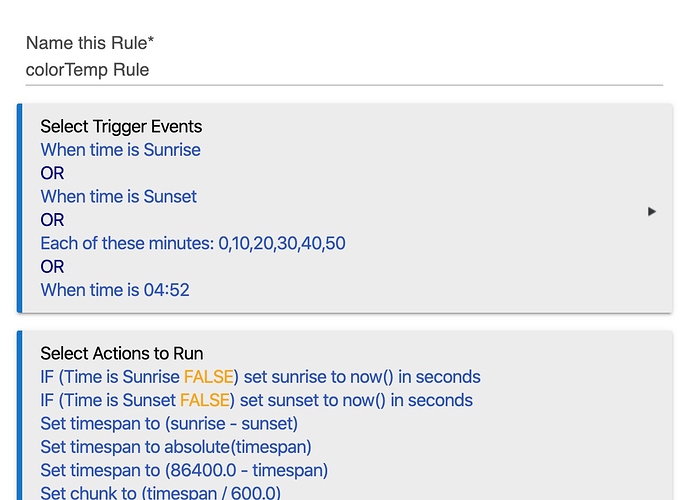 In addition to all that, there are also two global variables %colorTemp% and %colorTemp2700% that I then call from the specific lighting rules for each individual lamp (this has greatly simplified my lighting rules as I was previously changing the color temperature of lights based on modes).
my feature request is for @bravenel and is as follows:
It would be nice to able to call the system sunrise and sunset variables without having to recreate them as I do here in order to do math based on those times. The problem is that if my hub gets flaky at sunset the night before, my rule flies off the rails the next day. Between hub updates or hubconnect or some network issue, if I miss that 1 minute window at sunrise or sunset my lights get all weird and I have to use an online unix timestamp conversion tool to manually repair things. If I could use the system variables, then I think it would make things much more reliable.