I'm trying to get two RGBGenie remotes working. Having some problems.
Remote ZB-5001 using RGBGenie Button Controller Driver:
Shown as having 10 buttons (12 in reality). The 5 group buttons (on/off, hold /release) are recognized correctly.
Pressing the All On/Off buttons at top , I get variable responses. They don't seem to be recognized as independent buttons. They will generate the same numbers as one or more of the individual group buttons. For instance, the group on buttons generate 1,3,5, 7, or 9. Pressing the "1" button at top, it will sometimes report 7, sometimes report 9, sometimes report multiple numbers in sequence. It doesn't seem to be predictable though.

Remote ZB-5004 - 4 groups, 2 scenes
Driver RGBGenie ZB-5004 doesn't work at all. It shows as having 2 buttons and no buttons are recognized.
Using the generic driver (same as above), it says there are 8 buttons - corresponding to the 4 group buttons. Those 4 are recognized (on and off, hold and release). The Scene 1/2 buttons are not recognized at all. The all on/off buttons at top behave similarly as with the 5001 - different numbers are reported with each press.
These are remotes I just purchased recently.
The 5004 shows this firmware: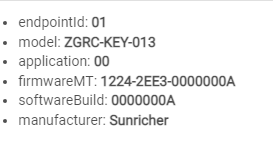 The 5001 shows this firmware: