Hey All,
I've read about 4 different threads on how to cancel repeated Notifications in Rule Machine, but I still can't seem to get this right.
My apologies for starting another thread, but I'm hoping someone can help me - especially because this is just one of 2-3 variations of this rule that I hope to make.
The Problem I'm trying to solve:
Historically I use HSM to send Text and Audio Alerts when something requires attention (Water detection, Alarm triggered, etc)
I've previously set HSM to send Text and audio Alerts on repeat.
Once awake/aware of the issue, the spammy texts and audio warnings played in our house drive my wife (and thus....me) nuts.
I've attempted to create a 'Mute All alarms' button in the past.....I had assumed that it worked, until we had a small (false) water leak at 6am and the whole family was awake by the time I figured out how to shut it off.
What I've done Thus Far
I have a Virtual Switch ("Audio /Text Alerts Switch") that is intended to enable/disable Audio and Text Alerts
I have several rules in place to turn that switch to the off position - Ie: hitting a button on my sharptools dashboard, hitting a physical Zigbee button next to our bed, hitting the ALarm Disarm Button etc (This works)
From here, things get shaky....
I've tried a few different approaches, but none of them have worked yet...the messages just keep repeating, even after I've turned off the "Audio /Text Alerts Switch".
The easiest attempt I made is based on this thread and didn't work: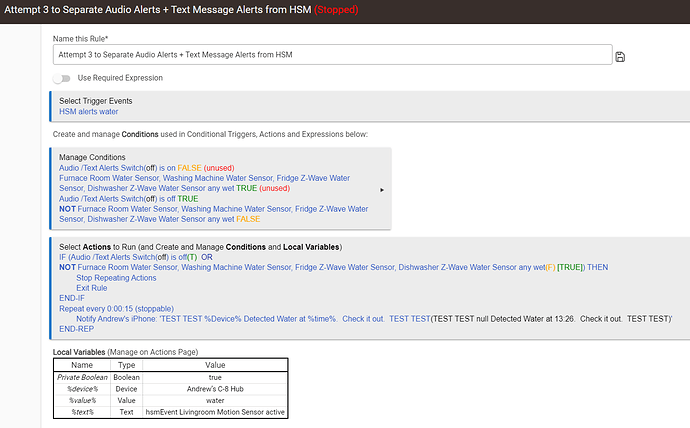 A Previous Attempt was based on THIS thread, but also didn't work:
I'm not an expert by any means, so if anyone can tell me (in layman's terms) what I'm doing wrong, it would be much appreciated!