Trying to add the repo but it ask for a URL not just "Simon Burke (sburke781)"
You need to open the list and tick my repo in the list. I'll get a screenshot in a couple of hours if you need it.
Ok found it.
That part is misleading because unless you have the URL you cant manually add the repo. I searched in HPM and found the package and now it does show up in my repo list.
I might not know how to add them manually so please don't take me wrong i appreciate your work.
BTW will the icons come back? as of right now the icon used on the templates are not showing anymore as micolino probably closed the page that was hosting them????
Thanks for the feedback Alex, I will update the setup notes and follow up on the icons for you.
Hi @alexd51,
This is what I was referring to in the instructions for adding my repository, were you able to find mine from the list in HPM?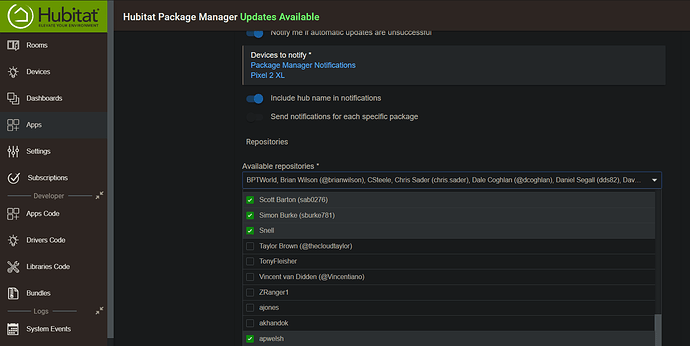 This was something I think I have left out of the instructions for moving across to my hosting of these drivers. Part of the instructions that I updated in the Readme include Mirco's original step for adding a line to the CSS for your dashboard to a CSS file I now host in GitHub. You will need to update the CSS import in your dashboard to be:
@import url("https://sburke781.github.io/ecowitt/html/ecowitt.css");
Thanks for picking this up, I'll update my instructions in this thread.
Thanks, I have also moved those fonts, if you replace mircolino in that url with sburke781, hopefully that should work. I'll go through those notes in more detail to update the migration notes. Thanks for your help with this.
Simon
I have the GW1000 and a couple of temperature sensors. I was thinking about getting something like the HP3500B weather station (just to have the console), but I suspect that only the GW1000 can be integrated in this way. Any insights on that?
I emailed Ecowitt with a question if the same number of
sensors could be connected to the Gateway and 2 Consoles
at the same time.
The answer was - Yes.
So, I am planning to by 2 Consoles directly from Ecowitt.
Unfortunately Amazon doesn't have them.
It looks like a Consol can act as a Gateway but I am not sure
it will be HE friendly.
Yeah I'm not sure about the consoles, I only have the gateway myself. I can try and find out.
Annoyingly, what appears to be a bundle deal for the HP3500B doesn't quite make the same commentary around the data as the very similar HP3500C or the GW1000. They talk about uploading the data to Weather Underground cloud-service and their WS View app, but only on the HP3500C and similar displays, along with the GW1000, do they talk about the capability to upload to:
user customized website (needs to having the same protocol with wunderground or ecowitt.net)
, which is what we are using here. I'm 99% sure you will be able to connect the display to these drivers, but I wouldn't want you to outlay your money on my "gut-feel". @vitaliy_kh 's response from EcoWitt about multiple pairings also sounds promising for you, given you have a GW1000 already.
Just noticed you said you were just after the console, perhaps the HP3500C is what you are after then? It is roughly half the price...
If you want to pursue the HP3500B, I'd suggest getting in touch with EcoWitt to confirm the custom data export option, or wait to see @vitaliy_kh 's experience.
Simon
Hi @alexd51,
I don't believe you will need to reference the icons TTF file anymore.... I think this is handled by importing the CSS file you picked up on earlier. That includes a reference to the TTF file under my new GitHub pages (.io) repository. Let me know if you are still having problems seeing the icons on your tiles and I can take a look.
Simon
Ecowitt don't have in stock HP3500C (zero is available).
I just ordered 2 out of 3 available HP2551C (one is still in stock).
Since I already have GV1000 Gateway (BTW, they have newer
GW1100 Gateway, price is twice higher but the rest looks the same)
I guess, I will be all set for the HE integration.
I need this 2 Consoles only because my wife want to see all info on
the dedicated screens in 2 locations without messing up with any aps.
Thanks for the info @vitaliy_kh, shame about the stock levels
@niklasg
You could also use ambient weather devices.
I had a ws-5000 weather station before going the hubitat route and added the gw1000 to port over sensor data. The only sensor that doesn't transfer is the main indoor sensor with pressure data. The rest of the temp/ humidity sensors work just fine.
I went ahead and bought a HP2501-C console (there's one left now). According to the web site, you can use it to upload data to various web sites, but there is no API to access the device, so you would still need the gateway to integrate with HE, it seems.
Also, on their web site, they sell devices not just for the US, so be careful selecting the right frequency based on which continent you live on.
@SigFan86 -- are you still using the WS-5000 in conjunction with the GW-1000?
I was looking to add a console, and I was figuring with the firmware being different, that AW consoles wouldn't work with EW devices. Supposedly, the EW firmware works with AW, but not the other way around.
Just wanted to add my thanks for doing this, @sburke781.
Really great of you to take this extra work on and make this and the transition process available. Much appreciated!