Hey all!
I am having some issues with a rule/trigger, and was hoping anyone could help me out abit.
I want all mo sonos speakers to tell me the news, this should only happen between 0700 and 0900 in the morning, its should be triggered by my motion sensor. been experimenting alot, but to no avail!
i can provide a picture of how its set up right now.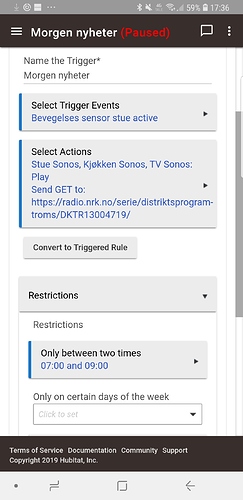 as you can see i have put a link to in
" Send HTTP Request Enter URL to send request to"
this is because i thougt the news radio link should be, but i am starting to think i am way of track!
any pointers to help me in the right direction?
Thanks!