It seemed best if I created a new topic instead of extending this prior one, but I'm linking to it for reference.
Measure Duration
(by the way, how do you link such that it shows the mini snippet from the link?)
This is an extension of questions that I was asking about monitoring humidity as it relates to the exhaust fan in my bathroom.
My suspicion was correct that the trigger of humidity > 63 led to the rule triggering every time the sensor sent an update (current device setting is every 1% change in humidity). I searched for debouncing and first had a setup using two rules (managing the recurrence with a virtual switch being on or off). However I was hoping to trim down to one rule using private boolean.
The rule I made had some notifications before, which I was using to debug, but I took them out before pasting here.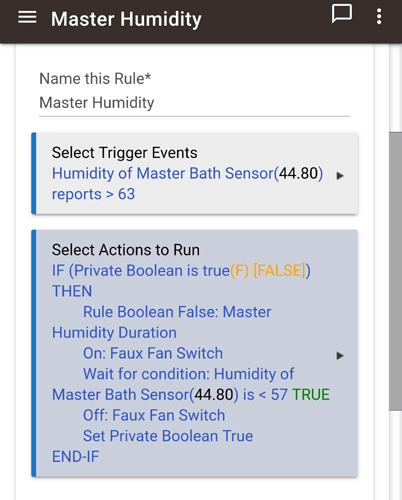 I need help with the logic on PBs because when this runs it never gets to the point where it resets the PB to true. At this point there aren't actual switches installed as I only received them in the mail the other day and hadn't installed them yet (thus the name "faux"). I bring that up as without it I couldn't tell if it's getting past that "wait for condition" of the humidity dropping lower. I'm sure there's probably a way to monitor the status of that virtual switch to, but I wasn't sure how to do that either. I'm hoping someone will be able to recognize my error directly from the rule text.
Thank you.
Edit: I now realize that I made that screenshot after the PB was in the false state, and I hadn't reset it (using a separate rule I made just for that), so ignore the state it's showing in the orange [ ]. Well unless I have the true/false logic backwards.