Awhile back I made a rule that did some differential times for dimming my outdoor lights, got some help here and it was great, but as I looked at my Rule Machine list I noticed I was doing a fair amount of "here's a rule to start something, and here's another one to do the other half of it"
With that said, I am trying to do the following:
At sunset each day +10 minutes, begin raising the out door lights (my house and garage) up to 100% over 30 minutes with an interval of every 1 minute. (Easy enough, works perfectly)

I want to begin dimming my lights at 10PM each evening until Sunrise -15 minutes.
Having them gradually dim accomplishes two things for me, my neighbors dont have to stare at my daylight LED bulbs all night long on 100%, and I still have lighting for the overnight for security and not being a completely dark home.
The -15 is because by the time actual sunrise happens, its plenty light enough out to not have to go right up the official sunrise time.
Here is what I have in my rule: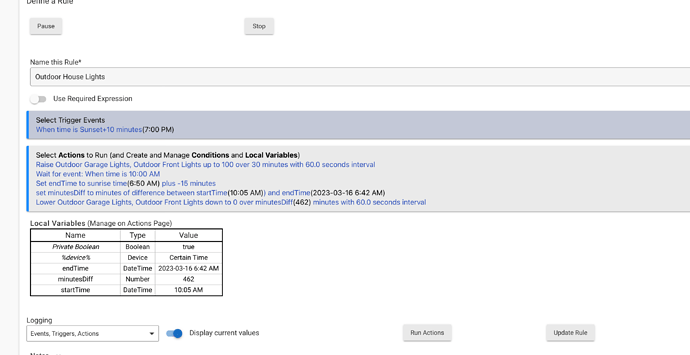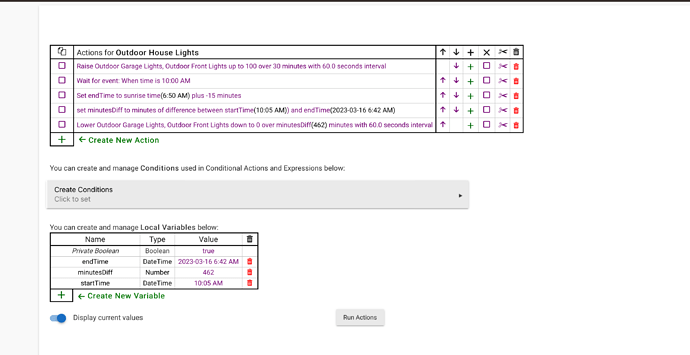 My old rule had a diff time in it, but at this point, I dont think I need that, or maybe I do so that the light can calculate the time need to dim?
So here is how I have it in my mind:
Sunset +10 is my trigger time, next step, the lights raise from 0 to 100% over the next 30 minutes.
I put in a wait timer so that nothing happens until 10PM each night.
SetEndtime is set for sunrise -15.
Do I need the set diff at all?