I have a rule that locks and unlocks a doggy door based on a bunch of things (e.g., whether it's dark outside, whether either of the back gates are open, whether anyone is home, etc.). My rule works fine; you can see the triggers below (I won't bore you with the whole rule).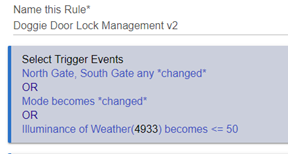 I don't like the fact that my weather device (I use DarkSky) only updates periodically, so it can get dark and the door might not lock for a while. So, I thought I'd get cute and add a poll of the weather service at the beginning of the actions. Setting aside the fact that I now understand that isn't the best way to solve my original problem, I did notice some very odd behavior that I thought @bravenel would want to know about. If I add the polling statement as a first action during the day time when it's light out, the rule keeps triggers infinitely, this despite the fact that it should only trigger when the weather device is LUX<=50 (And I confirmed that it's the Weather that's triggering the rule and it's Lux reading, as you can see below, well into the daylight region.
Could this be a bug? Why would the rule the trigger continuously?