I am a newbie to Hubitat and have ran into two issue with my motion sensors + light strips.
The first issue comes from my rule sometimes not working. Here is my rule, as well as a log of my rule not working: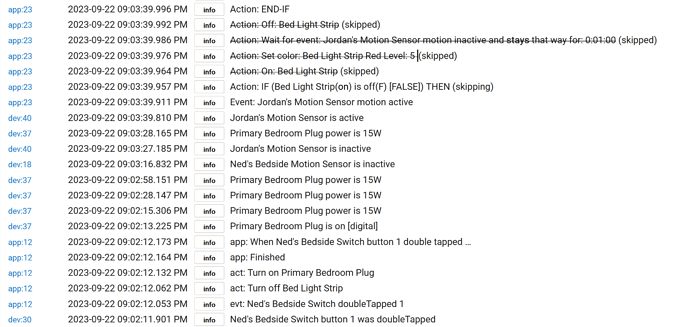 You can see that a bedside switch was double tapped. This turned off the Bed Light Strip, just like I wanted. I then have a rule that when Jordan's Motion Sensor is active, the Bed Light Strip turns on, IF the lights weren't already on. In the log, the rule states the Bed Light Strip is on. This isn't the case, as the log shows that the Bed Light Strip was turned off.
I have checked the device on Hubitat and it says the Bed Light Strip switch is on. It's not on, however, as confirmed from my button double tap and just looking at the lights. Any idea what's going on here?
My second issue comes from the same rule as above. The rule states that after a minute of inactivity, the light will turn off. Occasionally, the light won't turn off however. I haven't seen the log on this, but all I can think of is the motion sensor won't trigger the inactivity, as this should be the only thing preventing the light from turning off.
Other info:
My LED strips are from Kasa (KL400L5)
My motion sensors are from Sonoff (SNZB-03)
I installed four Zigbee repeating smart plugs from ThirdReality two days ago. I have followed the procedures from the "How to Build a Solid Zigbee Mesh" and nothing seems to be going offline now. Also, if someone knows how to get the plugs to stop reporting power, even thought I have the "Enable automatic power reporting" disabled, that'd be great.
Let me know if you need more info. Thanks!