I have a couple of use cases that I cannot figure out properly. Any help would be greatly appreciate.
Note that my system consists of:
Lutron Caseta ELV dimmers (connected to Hubitat via the Lutron Smart Bridge Pro)
Philips Hue motion sensors (connected directly to Hubitat via Zigbee)
Lutron Pico remotes (programmed directly in Hubitat, not programmed at all in the Lutron app)
Use Case 1:
Motion lighting turns on lights, then
User turns lights off manually (either via Pico or just a subset of the lights via the Caseta dimmer), then
Motion lighting doesn't activate the very first time that the motion sensors are triggered. The log throws "Not turning on, already on"
The proper desired behavior would be that regardless of whether the sensor is active/inactive, the motion lighting app retriggers and turns on the lights in the scenario above (even the first time that the motion sensor detects any activity). For instance, if I am sitting in my family room and hold Pico button 5 to turn off the kitchen lights, then go into the kitchen, the kitchen lights should turn on.
** Case 2 **
User turns lights on (either via Pico or Caseta dimmer)
User turns lights off (either via Pico or Caseta dimmer)
Same sort of issue as above - motion lighting app doesn't trigger the first time the motion sensor is reactivated
Same desired end state as above.
Photo of an example app and Pico remote program. Note that I'm confident my issue doesn't lie in my groups / scenes.
** Motion lighting app **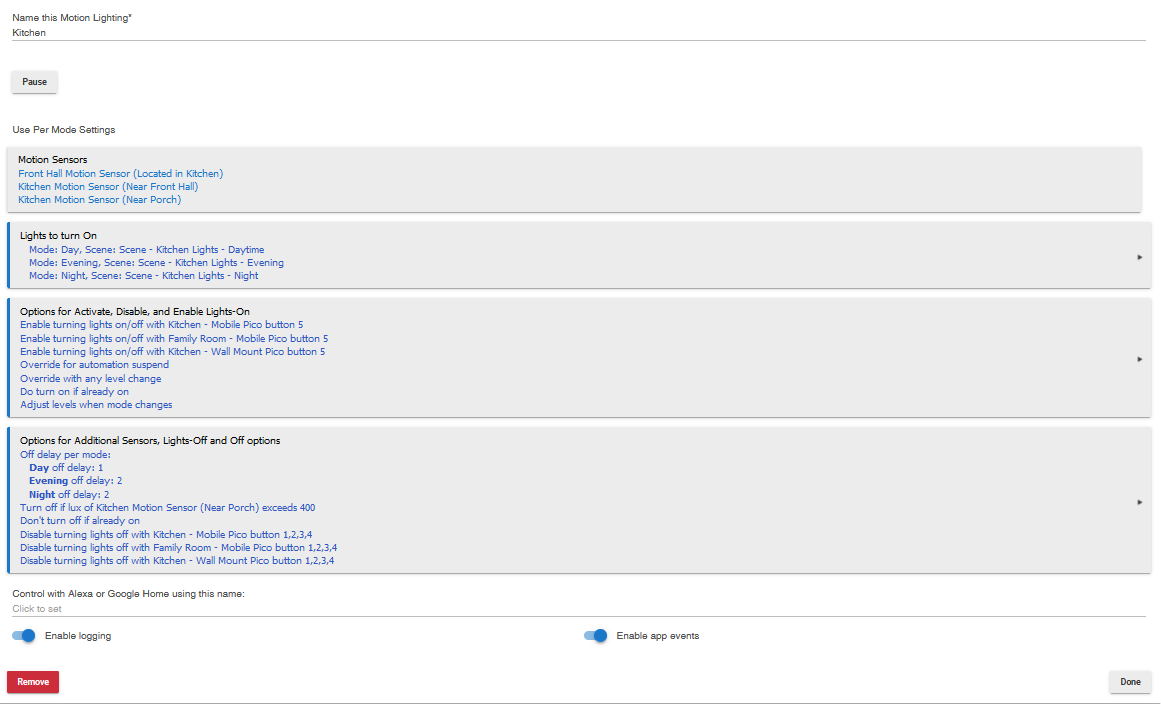 ** Related Pico remote programming **