I had been using the "Simple Lighting" app for all my motion and contact-based light automation. I then decided I wanted to branch out and be able to set lights to specific color temps and brightness based off active motion at certain times. The Motion Lighting app was the obvious choice as it made these options super easy to program.
I setup several "apps" for various lights around the house to perform certain ways. To my delight, they all worked, the first time. I then went in to edit things like color temps and brightness and then ran into my issue of lights just not responding. I then dug into the logs only to find that HE definitely thought the lights were turning on, at certain brightness and color temp. Even so far to the point that once their one min turn off delay was up, the physical light flashed on for a moment (to the correct color and brightness I might add) to only turn off as the app was intended to do.
I then thought perhaps its because I set the color temps to low or brightness to low and the lights didn't like it. So I set the parameters back to what had always worked in the Simple lighting app and once again, they all responded the first time....and then didn't after that.
Devices used:
Motion sensor - Iris V2
Lights - Sylvania Lightify Recessed and Sylvania Lightify A19
Outlet - Kasa Mini
The only thing that has always worked so far is my two Sylvania Lightify A19 bulbs.
I'm lost without any real consistent dominators.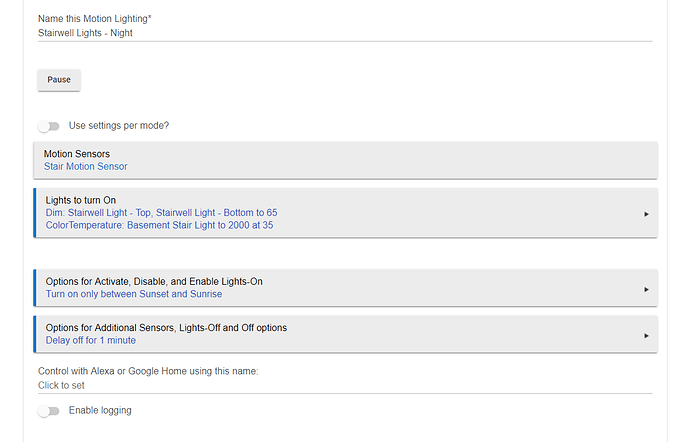 dev:672019-08-03 11:22:08.003 pm infoUpstairs Hallway Light 2 was turned off

dev:672019-08-03 11:20:50.864 pm infoUpstairs Hallway Light 2 colorMode is CT

dev:672019-08-03 11:20:50.857 pm infoUpstairs Hallway Light 2 color is Sodium

dev:672019-08-03 11:20:50.703 pm infoUpstairs Hallway Light 2 colorTemperature is 2000°K

dev:672019-08-03 11:20:50.559 pm infoUpstairs Hallway Light 2 is 50%

dev:672019-08-03 11:20:50.473 pm infoUpstairs Hallway Light 2 is on