I have two sengled bulbs in my bathroom, and I am using them to trigger a number of different states/scenes based on automation using the 'Motion and Mode lighting app'. 99% is working perfectly, except for one scenario.
Listed below is the problem scenario, where I am seeing for troubleshooting guidance:
During "night mode", I use the mode to trigger a Night light scene where one bulb is off, and the other is lit at around 5%
In the morning, my setup enters "Early morning" mode from 6 am to 8:00 am.
During the above "early morning" mode, I use the motion app, to use the "lights to turn on" section, to turn both the bulbs to 40%....but the system only turns on 1 bulb to 40%, and the other remains off.
I think, what is happening is that the night Night light scene had turned off one bulb, and hence somehow in the morning, the motion app "respects" that and does not turn on the off bulb.
Night time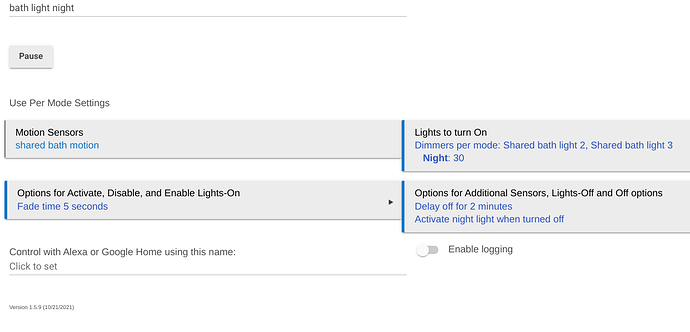 Day Time